Cinderella is Proof that a Pair of Shoes Can Change Your Life
Ok, let's face it. If Prince Charming put a glass slipper on my foot and we ran away together into a "happily ever after" sunset, my feet would probably be cut up and bleeding. Glass slippers = an accident waiting to happen, but hey, that's why it's a fairytale! Luckily, in reality, we have fabulous shoe designers that make us feel just like Cinderella, minus the whole evil stepsister thing.
For many women, Manolo Blahnik is the be-all, end-all of shoe designers. Like artwork, each pair he creates is different yet equally as special. If you're a fan of Sex and the City, you can probably understand a fashionista's obsession with his shoes! For example, it was a pair of beautiful blue Manolo Blahnik's that brought Carrie and "Mr. Big" back together at the end of "Sex and the City: The Movie."
So, here's my latest obsession. If you're in the mood to buy your own "happily ever after" or sport the perfect pair of heels to your next evening affair, LISTEN UP! I have an amazing (and totally unreasonable) pair of shoes for you. Last January, those highly-coveted something blue "Hangisi" Manolo's that Carrie dons at the end of the movie became available at Neiman Marcus, Saks and Barneys. For months they continuously sold out in New York City shops, but are FINALLY readily available in our beloved Boston department stores. And, it gets better. If you're pining over the shoes, but would rather purchase something a tad more practical to match your wardrobe, the beautiful gemmed heels also come in classic black!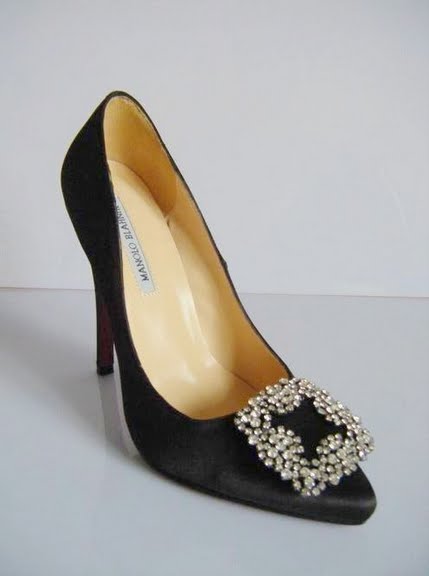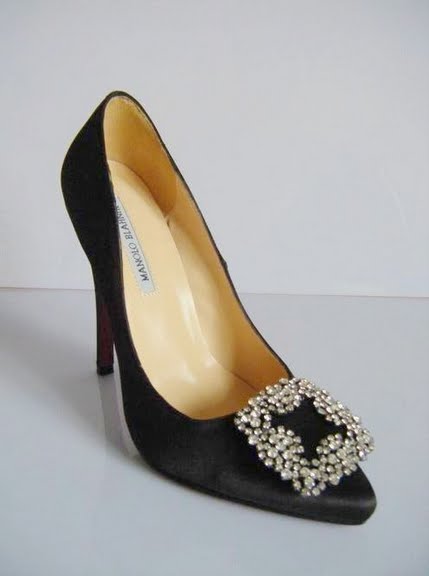 Have a high school reunion and need to step out in style? Want to pop your leg (adorned with a bedazzled shoe) under the mistletoe this holiday season? Manolo Blahnik has come to the rescue for all your 'dress to impress' affairs!
What more could a girl ask for? Well, maybe a Prince Charming, Fairy Godmother and horse & carriage ride to the ball. But hey, you gotta start somewhere!
Posted by Alyssa