Martha vs. Twitter
Here's another fun fact – I've touched Martha Stewart before. It's true and is one of the many reasons that working in hospitality PR rocks. I had booked a client on her show right before it got canceled (sorry, Martha) and I was in the test kitchen of the studio where the chef was prepping. I glanced out the window and into the audience as the crowd began to file in for the taping. I locked eyes with a man standing in the empty aisles who kept pointing at Martha and making all sorts of hand gestures, with a baby in tow. He mouthed for me to "get Martha!" I cautiously looked around and realized "crap, I am the only one who sees this guy." Unsure of what to do, I went over and tapped her on the shoulder and alerted her that someone was trying to get her attention. Luckily the baby must have been her granddaughter. She was clearly delighted to see the babe and started cooing and waving back at the window, while I breathed out a sigh of relief that I had avoided the wrath of Martha.
That story aside, I am inspired by her recipes, crafts (which always seem more like challenges to me) and creative ways; while at the same time cursing that the woman single handedly set the bar so high for entertaining and decorating! However, in recent days the world has learned, that this Queen Bee of all things domestic, does have a fault (and this is overlooking her stint in jail and insider trading incident). The LA Times has covered it, The Today Show, The Huffington Post, and news has spread internationally as London's Daily Mail has gotten word: the woman cannot take a decent food picture.
Her twitter feed has been all abuzz recently with people responding to her posts – as food porn and appetizing inducing images, these are not:
People responded in droves: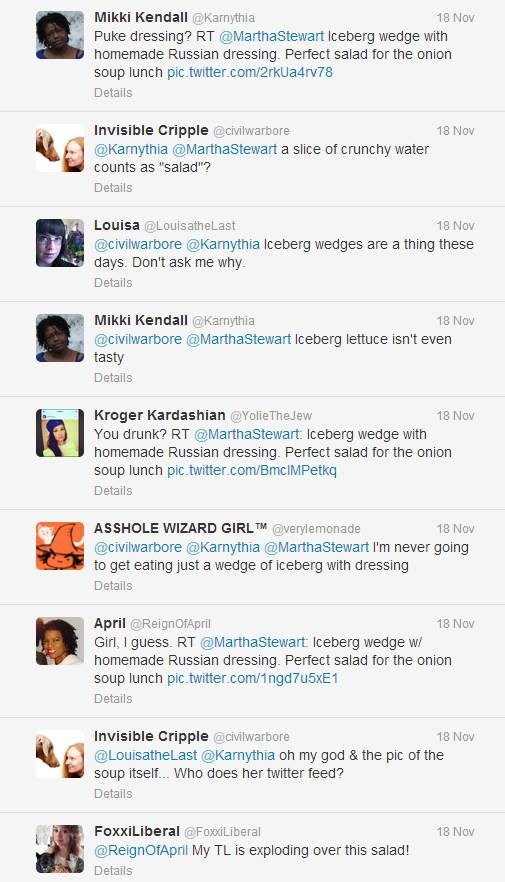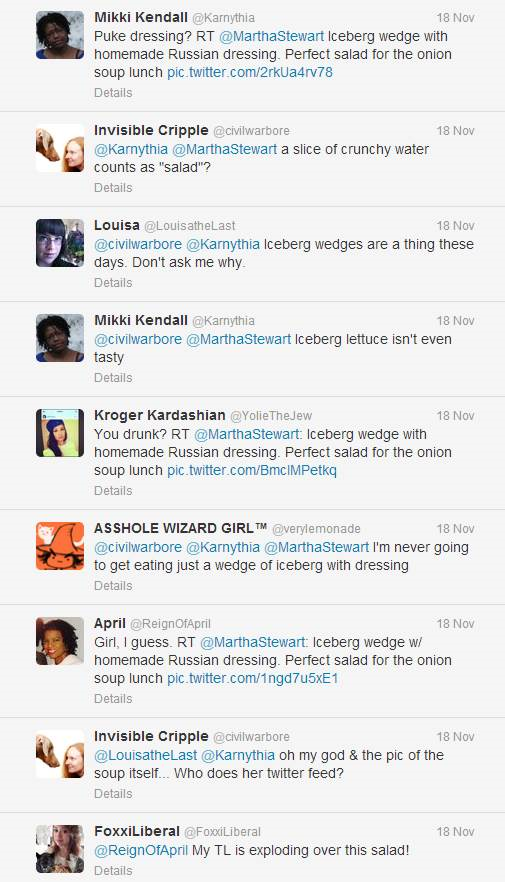 And the photo apparently was so offensive, that even the likes of The New York Times' Editor Dan Saltzstein and Restaurant Critic Pete Wells felt compelled  to tweet back their disgust:
You can't deny that whatever Martha does – it always creates a buzz (sidenote: I'd love to have dinner with her publicist). And in true perfectionist Martha form, she assured the hundreds of tweeters that contrary to belief, the food was actually "delicious" and "divine."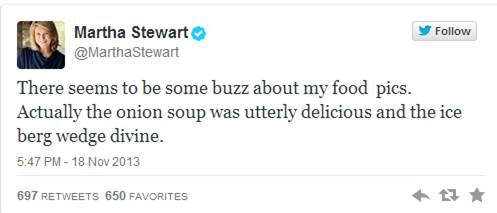 In this latest battle of social media woes, I'd say it is a clear Twitter: 1, Martha: 0.
Posted by Laura