McDonald's for the Win
Image Sources: McDonald's Instagram, Twitter, Facebook
International Women's Day was on March 8th – and to celebrate, McDonald's flipped their famous M logo (at a location in California) for the first time in history.
It wouldn't necessarily be the easiest thing for the mega franchise to flip their arches at every location, so instead, they turned to their digital channels. To show support, their Facebook, Twitter and Instagram all featured profile images with upside down arches.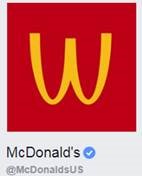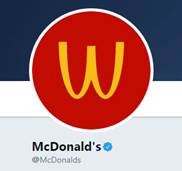 Image Sources: McDonald's Instagram, Twitter, Facebook
Even deeper than that, McDonald's dedicated a page on their website to celebrate the ladies in the business with a title that reads, "Without Women, there would be no McDonald's."
I found this particularly cool because it goes to show that, even in this complicated, often pay-for-play world, how a pretty simple and inexpensive PR stunt can still make quite the impact. McDonald's received coverage in outlets like CNN, Eater, Fox News and more – not to mention all of the engagement on social!
Kudos, McDonald's marketing team, kudos.
Posted by Lana