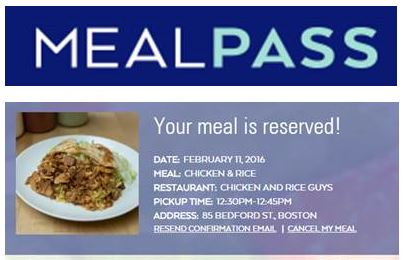 Meal Pass: Boston's Greatest Gift to Lunchtime
Image Source MealPass
As a Colby College alum, it's my rightful duty to represent the Mules long past my tenure up in Waterville, Maine. Therefore, when I found out that two Colby gals were shaking up the lunch scene in Boston, I immediately got excited.
Meal Pass, created by Katie Ghelli and Mary Biggins, is a lunch subscription service that costs $99 a month. By opting in, you get your pick of a meal from 50+ restaurants in downtown Boston every day.  All you need to do is reserve your choice between 7:30pm and 9:30am the day of, and select your desired pick up time. Best part is you can cut the line like a VIP.
While Meal Pass certainly isn't for everyone, if you're like me and eat out practically every day, this new service will save you boatloads. In addition to that, it encourages you to try restaurants you'd never consider going to. Yesterday, I walked into Falafel King to pick up my meal, and the managers repeatedly shouted "This is great! This is great!" while shoving free falafel in my face. Clearly, it's a win-win for both the customers and businesses trying to get new people in the door.
Contrary to popular belief this is not a paid promotion, however, Katie and Mary if you are looking for a PR firm in Boston, this Mule is all ears. (1 hour to lunch and counting…)

Posted by Anne G.