Meet Madison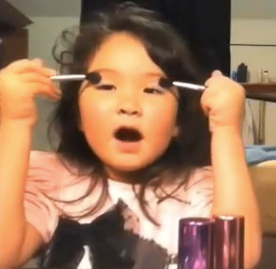 If you haven't watched Madison, the 5-year-old video beauty blogger, you're missing out.
From bridal make-up to showing off her favorite nail polish hues, Madison has a large collection of beauty tutorials via YouTube.com and each one is better than the next. This little girl must watch some serious QVC to know how to market products as well as she does. Either that, or her mom wears a shit ton of make-up and serves as her inspiration. But, seriously, she's as cute as a button and so is her pet dog, hermit crab…and recently added parrot. No, I'm not kidding.
Now, don't get all up in my face about how a 5-year-old is wearing make-up because—after watching these—you'll see how harmless it is. She's not rocking M.A.C. lipgloss to kindergarten; it's just for the amusement of her millions of fans and you know, sick Youtube.com pedophiles…
While I don't recommend taking her make-up step-by-steps too seriously (I mean, she is only 5), I do suggest taking a few minutes to watch her in action.
Here are my favorite Madison videos to get you started:
And yes, my future daughter is going to be just like her (you know, only with brown hair and blue eyes).
Posted by Alyssa
Posted By: netgain