Mmmm….Forbidden Donut
Image source PYTburger.com
Feast your eyes on the unholy hybrid (and Homer Simpson homage) that is the D'oh Nut Burger: A glazed donut stuffed with ground beef and American cheese, topped with bacon bits. The Dr. Frankenstein behind this savory monster is Philadelphia's PYT Burger.
Befitting a cartoon character who's signature waffles are made with a package of caramels and liquid smoke, then wrapped around a stick of butter, the D'oh Nut Burger is just the latest calorie-packed invention from the fun-loving minds at PYT Burger. Past menu offerings at "the home of craaazy burgers" includes the French Toast Burger and the PB&J Bun Burger (deep-fried kettle chip coated peanut butter and jam coated buns, banana-sriracha marinated juicy beef patty and apple wood-smoked bacon on top).
So we pose it to you, Philly folks – are you Simpson enough to take on the D'oh Nut Burger?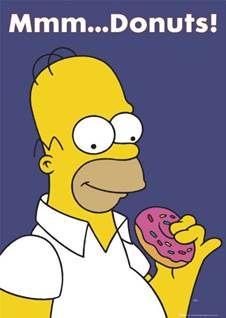 Image source StarStore.com
Posted by Michelle