Mo Money, Mo Matches?
Image source Luxy
"Luxy is a true millionaires club." Or, at least it is, according to its website. The truth is men have to be verified as making just over 250K, while women just have to be beautiful. Let's be honest, there has never been a more convenient way to meet horrible people in your area.
Naturally, this was an app I just had to be on. #Workingfornobucks means I can't cater to my gourmet food indulgences or my shoe addiction, so why not get a boyfriend who could do it for me? (Read: Rose Dalle… I'm not the only one who thought so.)
A little less than a year ago the dating app for snobs was released into the app world with the expectation that wealthy singles would be brought together on the basis of shared luxurious lifestyles.
When I created my profile, I was prompted to select "Luxy Tags" such as camping, entrepreneur, wine, nightclubs, sexy (I shit you not), yoga, CEO, etc. I then had to select "Luxy Brands" such as Givenchy, Polo, The Four Seasons, Tiffany & Co., Lexus, etc. As Luxy founder Tim T indicates, "This is a great chance to show your interests and a quicker way to get connected with other millionaire singles with similar interests." Obviously, two users shared love of Louis Vuitton will lead to years of happy and holy matrimony. Right?
Men are also required to verify their income by submitting a picture of their driver's license and tax return for the last year. Women can simply select whatever income they want without verification… Non-disclosure? Check. Goodbye, peasants!
New members are then required to be voted IN by at least 50% of existing members of the opposite sex for the next 24 hours. Let me tell you, this was the weirdest experience watching the percentage bar fluctuate between 48% and 52%. I'm hot! No, I'm not. Yay! Ugh.
Once IN, the app works just like Tinder (minus the poor), but in rounds. I could swipe through 10 potential suitors per round for at most three rounds a day. If you upgrade to Luxy BLACK for a mere $58.99/month for six months, you can message anyone you desire, regardless of matching. (Talk about creepy). You can also gift people with roses to show your interest before mutually "liking" each other.
After being on the app for only three hours, I have already been gifted four roses, made six matches, and received the following offer from Luxy BLACK member Joe, a 42-year old self-described Jewish, millionaire, entrepreneur, handsome, sexy, executive, gardening, hiking, movie-going, music-loving, theatre-attending, nightclub dancing photographer: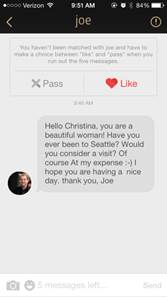 I think there is much promise.
Also, FYI. The site has a strict policy – No Gold Diggers Allowed! If you are seeking a sugar daddy relationship, Luxy is not for you.
Posted by Christina K