More Than An Act of Kindness
Source: Twitter
With so much going on in the world, it's sometimes hard to tell if the madness will ever stop. In the wake of the recent surge of wildfires in California, it's also understandable to question how residents will ever pick themselves back up again. That is, until a little piece of hope comes along, demonstrating the bravery and love that people show in the face of tragedy.

ABC Breaking News | Latest News Videos
While the man declined to be interviewed, people instantly took to social media to call him a hero.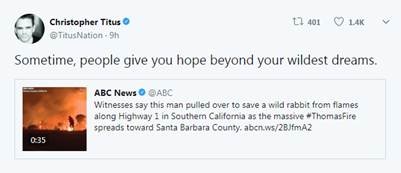 Source: Twitter
It's things like this that remind me of the selfless and downright good people in this crazy world. That even when in the eye of the storm, we should all strive to help others when they can't help themselves.
Posted by Katie