Neil deGrasse Tyson vs B.o.B: The Rap Battle You Never Knew You Needed
Image Source Black Sports Online
There have been some great rap beefs in our time, from 2pac vs Biggie to Jay Z vs Nas to more recently Drake vs Meek Mills, but the one that tops the list now has to be B.o.B vs astrophysicist Neil deGrasse Tyson.
Can any other battle claim to have started over something as intense as whether or not the Earth is flat? I don't think so.
If you aren't up on your rapper vs astrophysicist science rap battles, here's a quick recap.
B.o.B kicked the whole thing off by posting a series of tweets questioning whether the Earth was actually round, calling NASA liars, and generally just stating his belief that scientists have been lying to us. Shockingly, not many of these tweets made sense.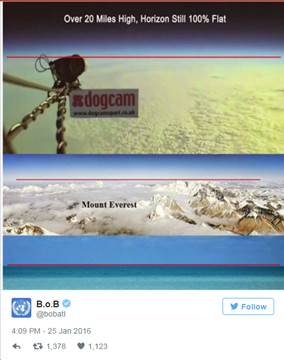 Image Source Twitter
This led to everyone's favorite astrophysicist, Director of the Hayden Planetarium at the Rose Center for Earth and Space in New York City and the host of Cosmos: A Spacetime Odyssey, Neil deGrase Tyson, to chime in to let B.o.B know that the Earth is indeed round.
DeGrase Tyson explained the science behind why the Earth isn't flat, and then left the rapper-turned-conspiracy-theorist with a couple jabs about his regressive thinking. That pretty much seemed like the end of it. Science wins and we move on.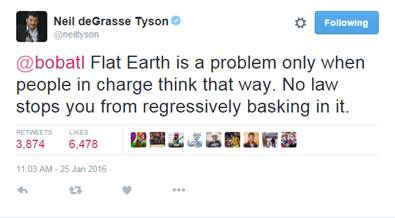 Image Source Twitter
B.o.B wasn't done though, and since he probably knew he couldn't out-science deGrase Tyson, he decided to out-rap him.
B.o.B put out a song called "Flatline" including gems telling Neil to "loosen up his vest" and asking "why is NASA part of the Department of Defense?"
Not to be outdone, deGrasse Tyson released his own diss track with the help of nephew Stephen Tyson called "Flat to Fact".
DeGrasse Tyson samples from Drake's famous "Back to Back" song about Meek Mill by using the same beat and having some great spinoff lines like: "He learned the game from Carl Sagan, you can never check him," and "Check him for a wire or an earpiece, please. Is Donald Trump the one that's feeding you all of these stupid bits of information?"
I've giving the win on this one to DeGrasse Tyson for a couple reasons. One, his rap was actually just better (not a good sign for B.o.B). And two, well, like Neil says, the Earth isn't f***ing flat so big point in his favor there.
Posted by Patrick