No Oven Required for This Turkey!
Without sounding too much like an infomercial, I'm pretty sure I've discovered the perfect addition for your Thanksgiving table.
Whether you're hosting Thanksgiving yourself or attending as a guest, the 'Turkey Cake' is where it's at. Forget the sausage, onions and bread, this baby is stuffed with ice cream and glazed in caramel. And talk about nose-to-tail eating – even the drumstick tips are edible (sugar cones)!  But wait – there's more! When you buy the whole bird you can customize it with your favorite ice cream. Baskin Robbins' top selling flavors include: Vanilla, Chocolate, Mint Chocolate Chip, Pralines 'n Cream and Chocolate Chip but you can go as weird or wacky as you want….think Cotton Candy, Blueberry Cheesecake or Lemon Sorbet. Hmm, which combination goes best with caramel-glazed-turkey-like skin?
And if committing to an entire turkey seems overwhelming, no problem – just buy an individual drumstick. At the holiday table, everyone fights for the drumsticks, because what's better than having the dark meat all to yourself? How about an ice cream cone dipped in caramel all to yourself!
Can't wait for Christmas… "ham" ice cream cake, anyone?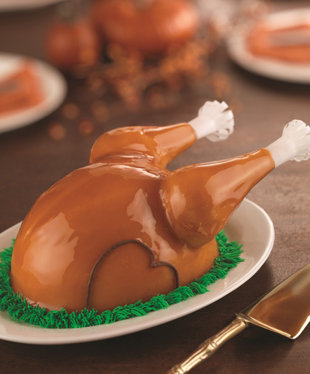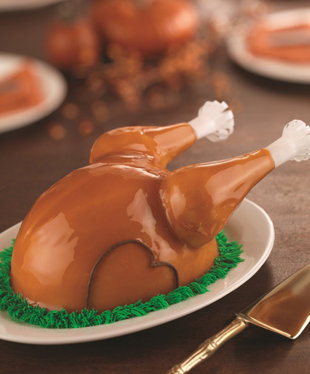 Posted by Katherine S.
Image source Yahoo! Shine