#NoDAPL Wins
Image source VOA News
Human decency wins! If you haven't heard the news, the massive movement that was #NoDAPL has won. If you don't know what this is (like my parents, which was shocking, but more on that later) then let me quickly get you up to speed.
The Dakota Access Pipeline project was a project led by Energy Transfer Partners, L.P. with the goal of carrying crude oil from North Dakota to the Midwest. About 470,000 barrels of oil a day would be transported through a 30-inch diameter pipeline. Those who support the pipeline say that the project would make the United States less energy dependent and free up railways to transport other commodities. Those who opposed the pipeline argued that it posed a serious risk to the water supply for the Standing Rock Sioux Tribe, the community closest to the pipeline's path; the Tribe also claimed that it would cut through their sacred tribal land, adding the issue of sovereign rights of the Native Americans to the mix.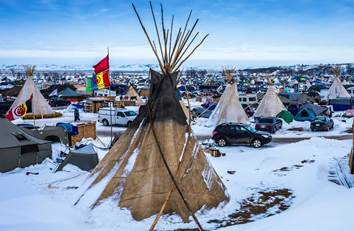 Image source WSJ.com
Social media played such a large part in the fight against the pipeline that it really speaks to its power. One example: many protestors were sharing their location on Facebook, and the police in North Dakota used that tool to target and arrest people. A movement on Facebook began and supporters of the protest around the country were asked to share their location at Standing Rock, even if they were safely in their living room. The system then became saturated with protestors not actually in Standing Rock and the police could no longer target specific people.
What happened with Facebook and location sharing clearly demonstrates generational differences in how news is consumed and shared today. I had a conversation with my parents about the Dakota Access Pipeline when I heard the news that they were not going forward with building the remaining stretch of pipeline — and I was shocked to discover they had no idea what I was talking about! I didn't understand how they hadn't heard of #NoDAPL, as it was all over my newsfeed for the better part of a month. That's when the generation gap, and the way we use media today, hit me. While my generation and my parents' generation both use Facebook to share news, Millennials take advantage of the voice it gives them. While it may be a different way to use one's "voice" than in previous eras, it's clearly just as, if not more, impactful.
Posted by Jen.