Oh, The Whorror!
I have a love-hate relationship with Halloween. Growing up with conservative Irish-Catholic parents made Halloween a drag. After years of begging to be Jasmine, my mom finally let me, but only if I wore a white long-sleeved t-shirt under the costume. Thanks, but no thanks. I ended up as a Dalmatian (I'm the fully clothed one in the back).
As I got older I got sick of fighting with the rents and turned to "humor" and by humor I mean I was a McDonalds milkshake…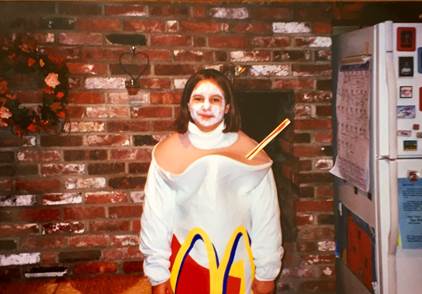 Spoiler alert: my milkshake did not bring any boys to the yard.
When I entered college I did the thing every conservative white girl does, I went crazy. This was my chance! I could be anything I wanted for Halloween and no one could stop me! Oh, how I wish they did. Years have passed and I can finally look back and have a good laugh at myself for the outrageous things I dressed my body in. Here we go…
Epic Fail #1: "gold-digger,"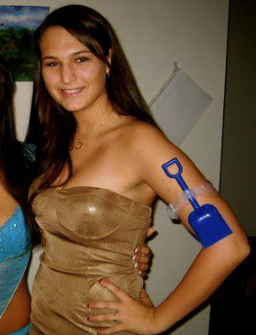 Everyone thought I was a sand box. No idea why…
Epic Fail #2: Mean Girls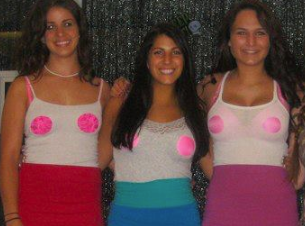 My mom was so proud.
Epic Fail #3: The Christmas Tree
Advice to the wise, wear a shirt under the duct tape when you decide to wrap yourself in it. Things they don't teach you in college…
Halloween is a weird American tradition where slutty, scary and funny all come together to create an outrageous holiday. It's all fun and games until you're drunk in the bathroom at 2 AM with six roommates trying to cut you out of duct tape.
While I wrote this post to share a few laughs, I also wanted to bring up the fact that we have a woman running for president, yet we are still cutting holes in our shirts to get boys to like us (FYI – didn't work).
This year I encourage women to take the whore out of horror. Let's replace "sexy" with "strong" and dress up our children (yours, no kids in my near future, sorry Mom!) as bada$$ women instead of Disney Princesses. And college gals, you don't pay thousands of dollars in tuition to be sexy, you pay to be smart so you can strut into the world with confidence and make a real difference. So toss those Playboy bunny ears and get your Rosie the Riveter bandanas out because it's 2016 and we don't need to stoop to the level of dressing up as a gold-digger, or sandbox, and definitely not a sexy Christmas tree!
Posted by Christina B.