Orange Ya Glad Ya Didn't Get Caught? Oh Wait…
Image Source: Food & Wine
I always love to read a good, hard-hitting news story. Similarly, I also love to read those NON hard-hitting news stories too. Per Food & Wine (through CNN), my mind was blown after I learned about what a family of five were mischievously up to over in Spain.
As you can see from the photos above and below, it looks as if there are a few hundred loose oranges held captive in these two cars. Well, it turns out there were actually over FOUR TONS of oranges that were stuffed in the cars, weighing in at about 9,000 lbs!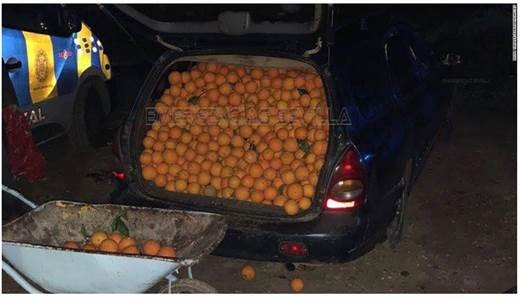 Image Source: CNN
To give you some background, police in Spain had initially tried to pull over a group of cars that were driving very suspiciously close together, until the cars later took off on a chase down a dirt road. After tracking them down and investigating, police opened the doors to an avalanche of stolen oranges that came tumbling down.
When asked why they stole the oranges, the family informed police that the fruit were for personal consumption. So to break that down, each family member would have to eat around 1,800 oranges. Given that oranges stay ripe for about one week unrefrigerated, each family member would have to eat about 257 oranges a day. Or, if they have a refrigerator big enough to house the fruit, the oranges might keep for about three weeks….still posing the challenge of consuming 85 oranges a day. Though 85 is a little more realistic goal, it is still one that I don't even think Professional Eater, Joey Chestnut, would want to face.
Like everyone else, I am still mind boggled as to why this family set out to steal this much fruit. Apparently, according to Food & Wine, as prices of fruit begin to rise, so do the fruit-stealing crimes. Makes sense I guess, but what on earth could you even do with that much orangey goodness?! I mean – maybe the family just really loves oranges and couldn't afford to buy 9,000 of them? We'll never know!
Posted by Olivia