Parlez-vous Covfefe?
As we all know, President Trump loves to late night tweet like a basic girl love rose wine. It's common for his tweets to become the topic du jour for morning shows and newspapers, but nothing was quite as baffling as a recent tweet he fired off while attacking the press, citing "negative press covfefe."
I mean, it's pretty obvious it's a typo of "coverage" but many scratched their heads, unsure of what the commander in chief really meant. Is he giving away national secrets? Is that Russian? Was it a simple slip of the thumb? Is he careless, IS HE OVERWORKED, WHAT IS HAPPENING?

Surprisingly, Trump had a sense of humor about it (maybe the first thing he's ever laughed at himself about..?) but it didn't stop the internet from going bonkers, especially on Urban Dictionary:





Even Sean Spicer got in on the laughs, too. GUYS, this presidency is so funny, we can all share a laugh!!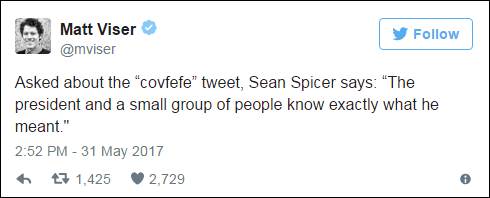 Posted by Tracy