Paying It Forward
Image Source: Twitter
We all know that air travel can be a struggle, and when you throw the stress of a possibly missed flight, testy airline officials and a declined credit card in the mix, anxiety reaches new heights (pun intended).
That's what happened to sports journalist Delilah Cassidy when she attempted to board her American Airlines flight. According to Delilah, the airline informed her of their new policy requiring passengers to pay for their carry-on luggage and proceeded to charge $50 to her credit card. Only one problem:
After ultimately being told she was going to have to miss her flight, Delilah was approached by a stranger who offered to pay the fee so she could board the plane. The nice fellow turned out to be Arizona Cardinals Tight End Jermaine Gresham, who then posed for a photo.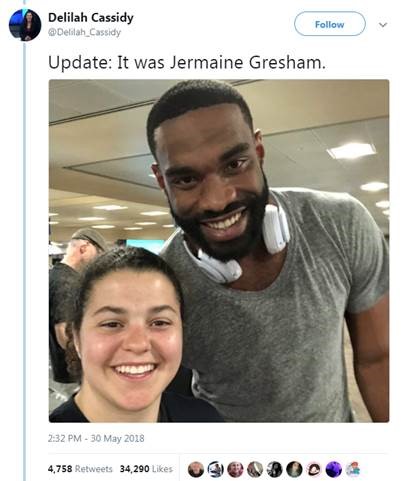 Source: Twitter
Delilah then tweeted after boarding the plane that when she approached him to repay him in cash, he waved it off and told her to "pay it forward."
Props to Gresham for restoring a little faith in humanity. He's more talented than I'll ever be, but at least I can try to be as kind!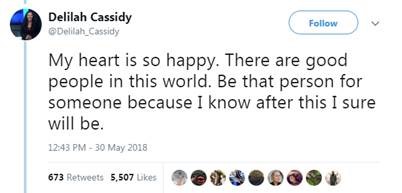 Image Source: Twitter
Posted by Katie