PDA Needs to Lose the "P" Before I take an Eye Out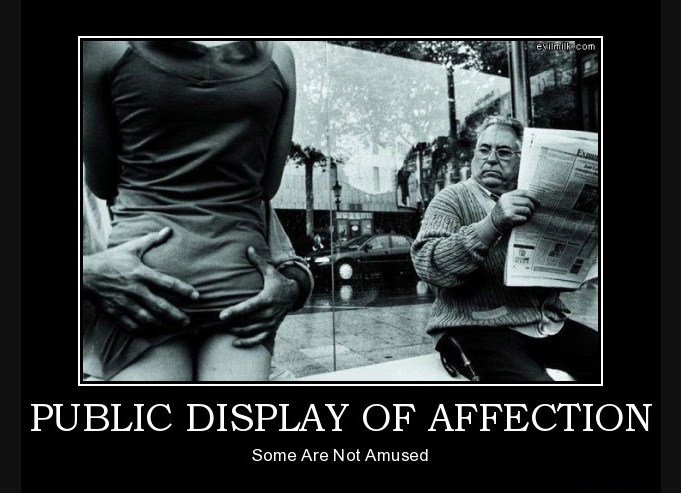 I shoved somebody on the train home last night. Yes, she was much bigger than me, which isn't hard to do considering I'm 5'1″, and yes, I did it on purpose.
Don't get me wrong, I am not a violent person. In fact, most of the time, I am entirely against violence in any way, shape or form. But this girl deserved a good shove and I thought sharing my story on m.blog was a good way to find out if my shove was just mildly inappropriate or entirely inappropriate.
Here is a little fun fact about me to preface my story: PDA makes me absolutely just want to throw up everywhere. I don't know what it is or why, but when someone tries to even touch my hand in public I get all squirmy and uncomfortable. Don't even get me started about public hugs…
So, last night on the way home from work the train was packed as always and I was squished between a sweaty man talking to himself and a couple. Ugh…I don't even like the word "couple."
When I tell you this couple was in a full-body embrace in the middle of a packed train sucking each others faces off, I am not lying for a second. Everyone was watching and, lucky for me, whenever they would take a breath, the girl would whisper sweet nothings in her boyfriend's ear — and I could hear every damn word. I won't write it here because you'll ruin your keyboard with vomit.
After about 10 constant minutes of this, I pulled my bag onto my shoulder, pretended to lose my balance, and I shoved the girl. Hard. She looked at me like I was crazy and I looked back at her the same way. But hey, they stopped!
Life lesson according to me: if you're totally in love with your significant other, I don't care. PDA needs to lose the P.
Posted by Brooke
Like what you just read? Vote for m.blog as "Best Blog" in the Boston People's Choice Awards and ask your friends to do the same!