Peace, Love and Paella
When watching the news a few weeks ago, I found my heart sinking heavier and heavier into my chest as I soaked in story after story featuring death, hate and destruction. When I switched to abc news I saw a glimpse of hope from a clip of a man stirring a giant pot of paella and smiles on faces of those who have lost more than we can imagine back here in Boston.
I have a confession to make. Until I saw the United Shades of America episode on Puerto Rico, I had no idea that Puerto Ricans were U.S. citizens. After tuning in last summer I felt ignorant, I felt angry and I felt frustrated. I'm an educated college graduate, yet my extensive curriculum never covered anything about PR. Could it be because we put ridiculous laws on their imports, make it impossible for them to get out of debt, or could it be that we don't let them vote or have a voice, yet we tax them like crazy? Whatever it is, it's wrong and this crazy battle over power cannot let us forget that Puerto Ricans are human beings, not just a territory.
Fast forward a few months, Hurricane Maria hits, the entire territory is wiped out and now we can talk about Puerto Ricans, but not as U.S. citizens, as people who are affected by a foreign tragedy. Last week the New York Times published an study stating that nearly half of Americans don't know that Puerto Ricans are fellow citizens…HALF.
So when people say that Trump doesn't have to worry about helping out PR because we have destruction on our own soil that needs to be taken care of, they're full of sh#t. When politicians aren't doing their jobs, it leaves us feeling hopeless and defeated, but then people like José Andrés step up to the plate and show us that we don't need to wait for politicians to make our world a better place, anyone can help, it just takes effort and action.
Just after feeding Americans in Houston, Chef Andrés flew to Puerto Rico and continued feeding Americans in need. I remember when I first saw the clip on the news the reporter asked Andrés how he planned to pay for all this and his response was something along the lines of I'll figure it out, right now people need food.
Sometimes we make excuses for why we can't help — we don't have the funds, the transportation, etc., but then here comes this guy who sees something that needs to be done and he does it. Imagine if politicians worked in this way?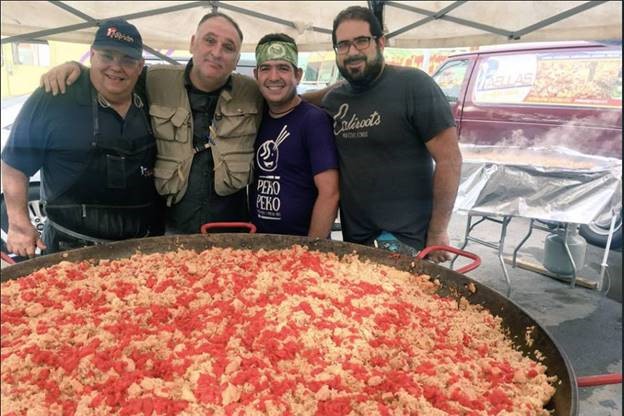 Fast forward a week or so and #ChefsForPuertoRico has gone viral and donations to World Central Kitchen have provided food to hundreds of thousands of people who have not had a meal in days. While Trump is throwing paper towels at human beings, Andrés is out there vigorously working to feed as many bellies as possible and give humans what they need to fuel their bodies, not wipe away the mess that our government has created.
While it's difficult to hop on a plane and volunteer in PR, consider donating to the World Central Kitchen and support these amazing humans keeping each other's bodies and spirits alive.
Posted by Christina B.