Pickling, A Guide
As much as it pains me to admit, last year I fell prey to the hipsterific Mason jar trend and am still in recovery. Once the fad faded I found myself with an entire cupboard of 30+ of the damned things, but did I recycle them? No, I am my mother's daughter, subscribe to Martha Stewart Living, and therefore have a deep intrinsic and unadulterated need to DIY the crap out of every reusable object that falls into my lap (or that takes up 4 cubic feet of shelf space in my delightfully small abode).
There is a veritable cornucopia of things to do with Mason Jars online, and I became paradoxically overwhelmed and underwhelmed by my options, so I hit the pages of my most recent issue of Garden & Gun (for all y'all yanks raised above the Mason Dixon line I suggest you take a terry through its delightful pages which delicately preach the art of deep frying, duck hunting, coon hound husbandry, and oyster shucking etiquette).
Thus, my pension for pickling was piqued. Many might fear that a DIY of this nature might land you at the top of a Pinterest fails blog or give your roommate some hideous form of salmonella poisoning, but the ingredients and instructions are some of the easiest and cheapest I've come across, so fear not!
Dill Pickles:
– 8-10 small pickling cucumbers
– 2 cups white vinegar
– 2 cups water
– 2 tablespoons pickling salt
– 4 heads fresh dill or 4 teaspoons dill seeds
– 4 small cloves garlic
Just boil water, add ingredients to jars and wait for a 7-10 days. Meh.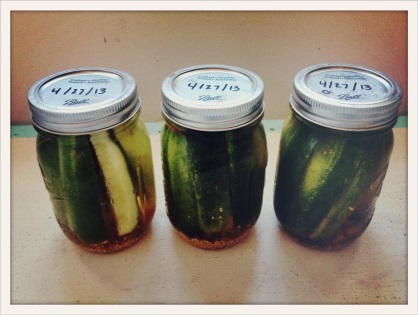 Glorious.
There's nothing more satisfying than hearing the seal "pop" on a new jar of ice-cold pickles. I was so pleased I went on a pickling rampage and proceeded to brine the living daylight out of any vegetable I could get my hands on (I have since learned moderation). I even went so far as to pickle the hottest peppers in the world, ghost peppers, which I aptly labeled "Pickles of Death" for the sake of my roommate, who has been known to secretly sample my culinary experiments. This is an accurate (if not under dramatized) representation of the resulting pickled pepper.
Now only if I knew what to do with all of those Cuppows….
Posted by Jenna
Image source SavingwithShelle.com; Jenna Llewellyn