Podcast So Hard
To all my Netflix bingers out there, I've got a new one for you. But you don't need an account, or even a computer for that matter. Your next binge-worthy addiction comes in the form of a podcast. Yes, I said podcast, and no I'm not being sarcastic. If you haven't heard of Serial, stop everything you're doing and start streaming.
In its first season, Serial tells the story of a real-life 1999 Baltimore murder, with a new episode released every week. Producer Sarah Koenig explores the case of Adnan Syed, a popular high school senior who was convicted of killing his ex-girlfriend, Hae Min Lee in 1999. What's interesting about the story is that Adnan was convicted without any physical evidence linking him to the crime, but on the testimony of one person, his friend Jay, who pinned the murder on him.
Koenig was actually contacted by Adnan Syed from his jail cell, who asked her to take a look at his case. Koenig was a former reporter at the Baltimore Sun who wrote about a corrupt defense attorney who used to throw cases in hopes of making more money on appeals; as you can probably guess, that attorney was Adnan's lead criminal defense attorney.
Koenig says she agreed to take a look at the 15 year old case and soon became obsessed with it. From tracking down Adnan's old classmates to pouring over every little detail from the attorney's case notes, Koenig has spent months working to uncover details that could prove Adnan's innocence.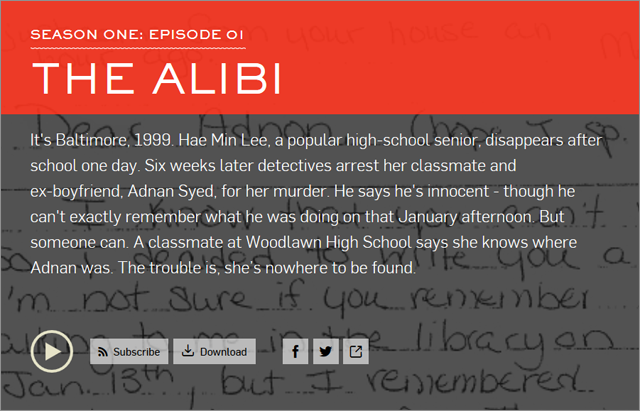 Image source http://serialpodcast.org/
Addicting in the way of True Detective and House of Cards, Serial is revolutionizing the podcast, generating buzz everywhere you turn. Just look at your Twitter feed on Thursday mornings. There's even a subreddit dedicated to the show, with many redditors trying to uncover details to help solve the case.
Since starting Serial, my commute has become 100x more interesting and I find myself scrutinizing the details and/or coming up with conspiracy theories in my head before falling asleep. If you don't believe me, try it for yourself, there are still episodes left in this season and plenty of time to catch up in one week! Get started here: http://serialpodcast.org/.
Posted by Tracy