Rainbow Tight…Er, Brite
Ever since I was little, I've been a television fanatic. In fact, my favorite number is 12 because Nickelodeon used to be on Channel 12. Looking back, some of my favorite shows had the absolute WORST production value: Belle and Sebastian (boy rides big white dog and they have adventures), Today's Special (mannequins come alive in store at night), and You Can't Do That on Television (variety show, slime anyone who says "I don't know").
Rainbow Brite was one of the shows that I NEVER missed. Sitting on the big brown chair, I loved watching Rainbow Brite ride her horse Starlite (bareback, mind you) across magic rainbows. With the help of her sprite Twink, the Color Kids, and the Color Belt, Rainbow fights to defeat the King of Shadows. In fact, my sister and I loved Rainbow Brite so much that we dressed up like her for Halloween – wrapping our arms and legs with different color crepe paper. (Check out an original clip of the TV show here: http://www.youtube.com/watch?v=CfjgH8LZCPE).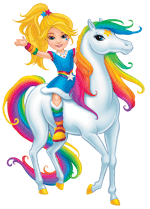 So it seems appropriate that my beloved cartoon is being updated for the 21st Century… or is it? I just learned that in 2010, Hallmark will reveal the "updated" version of Rainbow Brite – turning her into a tall, sexy, skinny blonde. I can understand re-working the animation so that Rainbow looks glorious on a high-def TV, but why must we morph her cute, pudgy, childish body into America's Next Top Model? In the late 80's, Rainbow Brite generated $1 billion in retail sales of dolls, toys, and other products – and this was when she was rocking the healthy look! According to "The Frisky," the same thing happened to Strawberry Shortcake and Dora the Explorer… it's no wonder kids are throwing up on live TV.
Posted by Julie