Rapunzel Becomes the First Disney Princess to Reject a Proposal, and I Love It.
Image: Disney
It's no secret that since the dawn of Disney movies, girls have set expectations for their love lives based on these princess films. They want to find a Cinderella wedding dress or hope their "Beast" of a boyfriend also turns into a prince.
One thing that has always stayed consistent in these Disney princess movies has been the ending: boy asks girl to marry him, she says yes and they live happily ever after.
That's been the norm – until now.
Last month, Disney Channel premiered their latest Disney Channel Original Movie, Tangled: Before Ever After.   The movie sets the scene for the upcoming Disney Channel show, Tangled: The Series, which will be the sequel to the original movie, Tangled. (Confusing, but necessary to understand the rest of this.)
We know from watching Tangled that Flynn Ryder eventually proposes to Rapunzel and she accepts, but he mentions that she only says yes after he asks on many occasions.
In Tangled: Before Ever After, we get to actually see the first time Flynn proposes to Rapunzel (with a really, really sweet grand gesture), and she straight up says no.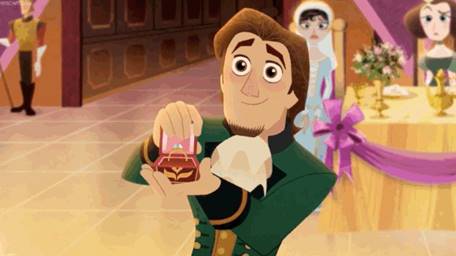 Image: Disney Channel
This is a big deal… no Disney princess has ever rejected a proposal.
Rapunzel explains to him later on that she's just not ready to be tied down yet, and he totally understands and even apologizes for putting her on the spot with his proposal in front of the entire royal court.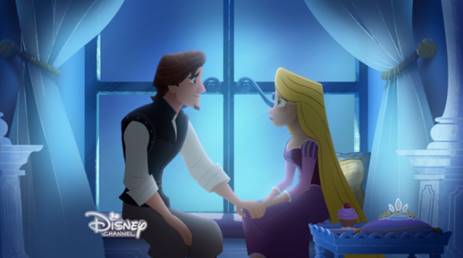 Image: Disney Channel
I feel like this was such a brilliant and necessary move on Disney's part. They must know that little girls set these high expectations watching their movies, and since perception is reality, also setup their norms. They're telling girls that just because someone asks you doesn't mean you have to say yes… it's very ok to say no. If you aren't ready, if you aren't with the right person…whatever the reason may be, it's a valid reason because it's your life.
Listen to your gut, and you'll live happily ever after no matter what. So says the House of Mouse.
Posted by Arielle