Real Influence of Caitlyn Jenner
Image Source Defamer
Unless you've been living under a rock, you know that on June 1, Caitlyn Jenner actually broke the Internet (sorry, Kim) when she appeared on the cover of Vanity Fair. As we all know, Caitlyn was formerly known as Bruce Jenner, patriarch of the infamous Kardashian-Jenner clan and the winner of a gold medal for the decathlon in the 1976 Summer Olympics, an achievement that earned him the title of "the world's greatest athlete." The Internet has been abuzz with some seriously hilarious memes involving Caitlyn's fabulouness targeting Kris Jenner's hypothetical jealousy and irritation that Caitlyn spells her name with a "C" and not the kustomary "K", and the fact that Caitlyn's reveal appears to have been flawlessly timed so as to overshadow Kim's pregnancy announcement (#ByeFelicia). Any and all of these memes are guaranteed to make you laugh and therefore I have graciously included links to all said memes. You are welcome.
Now, much has been said in the weeks since The Interview with Diane Sawyer, and much has been made of the potentially monumental influence Caitlyn could have on the LGBTQ community as a spokeswoman. There is no doubt that Bruce's transformation to Caitlyn has lit up the Internet and become a topic of conversation for everyone under the age of 30, but I think her true power is deeper and more subtle. She is enlightening an entire generation of people, particularly men, which might otherwise have no interest in understanding the transgendered community. My dad is one of these men.
Faced with the option of either spending lazy weekends with his wife and three daughters and watching reruns of The Real Housewives or pursuing other, more masculine pursuits, my dad often chose the latter. My dad is an entrepreneur who started his own business at 23 and retired before he was 50. He is a staunch Republican, fiscally conservative, and a passionate advocate for the NRA. He loves hunting, fishing, playing hockey and watching football. He is my personal hero and the best dad I could've asked for, but since I am among friends, I don't mind saying that homosexuality makes him uncomfortable. He would never vote against gay marriage or say anything about his discomfort out loud, but his awkwardness is evident in his total lack of desire to understand the LBGTQ world (and also just in his facial expressions and awkward nervous tics when confronted with the subject). Here's one more, kinda important thing about my dad: Bruce Jenner has been his hero since he was 15 years old. I remember watching Keeping Up with the Kardashians and having my dad walk in and watch with me, just to see Bruce and tell me for the hundredth time how he used to be on every box of Wheaties and how much my dad wanted to be just like Bruce.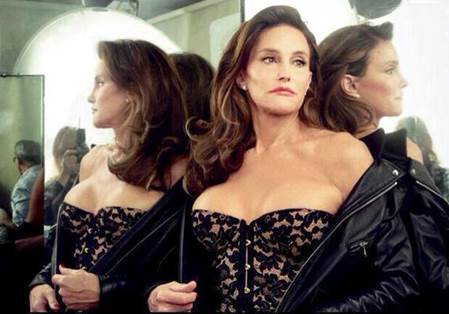 Image Source X17
Over the past few years, I've watched my dad go through a gradual shift, becoming increasingly uncomfortable as Bruce became increasingly female, always responding to gossip about his transition as baseless and "ridiculous." My dad is an extraordinary person, but he is part of that subset of middle-aged people who think millennials text too much, that iTunes is destroying the music industry and that marijuana is the equivalent of snorting cocaine. He's just old-school. As I said, he would never in a million years say anything mean or offensive about a gay or transgendered person, but he would also never attend an Allies meeting, research what it means to be transgendered or gay, acknowledge a gay person's sexuality in any way or really give any concentrated thought to the issue. That is, until his childhood hero became the world's most famous transgendered person.
I texted my dad one weekend and asked what he was up to, and he said he was watching Bruce Jenner's interview with Diane Sawyer. And that's when I realized the power of Caitlyn Jenner. Yes, she is a beacon of hope for all people who do not feel free to be themselves. Yes, she has a platform to really make a difference in the LGBTQ community. Yes, she does have a fantastic rack and looks amazing in red. But the real power of Caitlyn Jenner is her ability to educate an entire generation of people who grew up using the word "fag" in casual conversation, people who have never read a BuzzFeed article or seen an episode of The Kardashians. Caitlyn's past as superathlete Bruce Jenner is the reason she has been and will be so influential. It is her ability to give people who look at LGBTQ issues and say "What does that have to do with me?" a reason to care.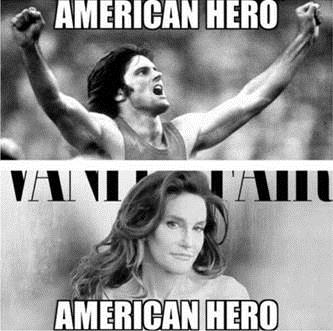 Image Source Trending Current Events
Last week my dad and I watched the two-part special of Keeping Up with the Kardashians in which Bruce (identity at the time of filming) and his family talked about the transition. And for the first time in years, I saw that old flicker of admiration in my dad's eyes, and the realization that his childhood hero was still every bit as heroic. That is the power of Caitlyn Jenner.
Posted by Sophie