Real Life Quidditch
Image Source: Conde Nast Traveler
If you're a Harry Potter fan, I've got some exciting news for you. Quidditch is becoming a real thing. And I'm not talking about the people who run around a field holding a broom tossing a ball. That's not Quidditch, that's running around holding a broom playing make believe. To play Quidditch you need to be off the ground. This is what real life Quidditch looks like: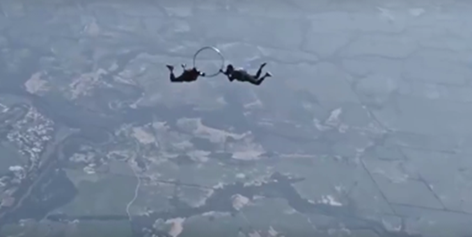 Image Source: USA Today
Apparently a group of skydivers from Colombia all grabbed brooms, brought rings and the balls needed for Quidditch and jumped out of a plane. The video, while great, is also slightly terrifying. Let's just put it this way: if I jump out of a plane, I don't think I'd have the courage or wherewithal to hold onto a broom and/or try to throw a ball through a ring. I'm pretty sure I'd be too busy screaming and, you know, hoping that when I pull the string my parachute actually comes out.
Posted by Patrick.