The Reds, the Whites, and Now…the Blues?
Image source https://gik.blue/
Deciding which wine to sip on any given evening can depend on a variety of things: your preferences, the menu, the season… the list could go on. While I'm always learning about new varietals that only further complicate the process, an entirely new option has entered the game, and it is… wait for it, blue.
Gik, a company based in Spain, is now creating and selling bottles of this electric drink. Besides the bright color, Gik's product is unique for a variety of reasons. To begin, they use both red and white grapes of three different varieties in their product, and the vineyards they work with are chosen based on the people who work them and their innovative natures. From there, they use cutting edge food technology to transform and improve the color and flavor of the fruit into a drink that has been compared to a sweet white wine.
The masterminds behind Gik get their inspiration from Korean business theorist, W. Chan Kim. Kim's Blue Ocean Strategy encourages businesses to use innovation as means of expanding their markets instead of using competition to beat each other out. From the technology they use to create their beverage, to the color of their product, Kim's strategy is seen in all aspects of Gik.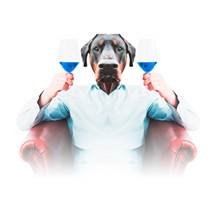 Image source https://gik.blue/
If you're feeling as *blue* as I am about not celebrating the Fourth of July with red, white and blue wines, don't worry. Gik is not even available in the US yet. So, unless you're spending the summer in Spain, France, Germany, the UK, or the Netherlands, you're going to have to put our tasting parties of this beverage on hold. Unless… group trip to Europe, anyone?
Posted by Charlotte.