Remembering a Comedic Trailblazer
Image source Buzzfeed.com
As the news of Joan Rivers' passing begins to settle, I can't help but think about how damn funny she was. Yes, of course she was crude, rude and everything in between, but it never seemed to really bother anyone. It was almost as if society's rules and norms did not apply to Joan, and the celebrities she targeted viewed her comedic insults as a rite of passage.
To which Lena Dunham replied,

Image source Buzzfeed.com


Image source Buzzfeed.com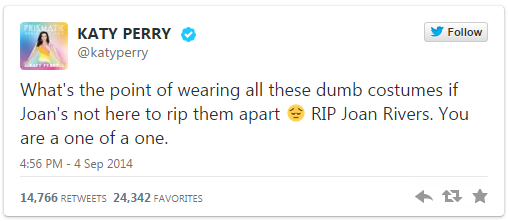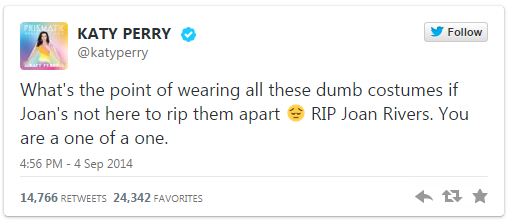 Image source Parade.com


Image source Parade.com
Say what you want about her comedic style and her ruthless fashion critiques, but the one thing I noticed following her death is how positive the media and celebrities were about her. More specifically, Joan was overwhelmingly referred to as fearless, a trailblazer and a pioneer, which I think it impressive in and of itself. Red carpets will never be the same.
Posted by Tracy