Revenge of the Roomba
Your favorite household cleaner might be sucking up more than just dust; think the blueprints to your house as well. Once again we're faced with the dilemma of modern technology making life easier –but at a price. This story is vaguely reminiscent of another tech news story where the recordings of an Amazon Echo (aka "Alexa") were a topic of debate during an Arkansas murder case. Yes, I'm saying it, but it seems as if it has become increasing difficult to evade eavesdropping appliances!
Case in point: the CEO of iRobot, the maker of Roomba, stated during an interview that he is interested in gathering more and more data about the layout of your home for his vision of a "smart home." This data, however, could be sold to third party companies interested in this information. That's not panic inducing at all, right?! Sponsored ads gathered from personal internet cookies are already scary enough, but imagine, ads tailored to your own home?! I can see it now: "Gee, that empty living room of yours could certainly use a nice new coffee table from IKEA."
Although I've never owned a Roomba, up until now I've always loved the little robot because of its popularity with pets. The internet is full of hilarious videos of Roombas vacuuming around sleeping dogs, or cats hitching rides.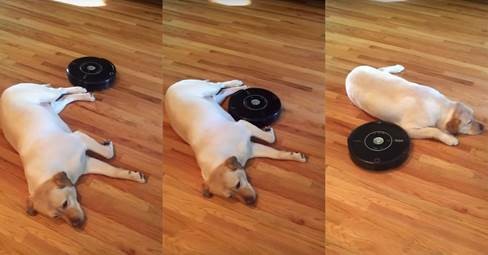 Images Source Google Images.
If this concerning new direction creates distrust in Roomba, we may be at risk of losing adorable videos like these forever…
Posted by Bill