Risking it all at Ruby Tuesday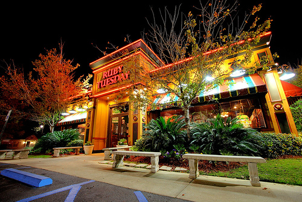 While you'd be hard pressed to find me eating in a restaurant chain these days, when I was in college in Harrisonburg "land of the restaurant chains" Virgina, I was a frequent patron at many a chain establishment. From ice cream at Cold Stone Creamery to happy hour at the local Chili's, I got my fair share of manufactured America, and massive amounts of calories to boot. In fact, a good deal of my senior year was split between class and my waitressing shifts at the local Ruby Tuesday.
Did you just cringe? I do, thinking back on it, but it definitely could have been worse.
We didn't have to wear name tags or flair, and I lived off the "freshly made" (aka microwaved in a bag) rye croutons at the salad bar. I got propositioned by a couple to join their pyramid scheme/swinger lifestyle, and I got numerous booklets about "finding god" from born-again Christian families that would come in with their 27 kids and leave me crayons and french fries to scrape off the carpet.
Clearly, I learned a lot about the world and other cultures at Ruby Tuesday. That's why I'm sad to see it on a list of restaurants that could potentially go bankrupt in the next two years according to The Huffington Post.
Without Ruby Tuesday, where will generations of youngsters learn to loathe themselves and others each time they say "Welcome to Ruby Tuesday, my name is [fill in the blank] and I'll be your server today, would you like to start with our four-way sampler and signature Ruby Relaxer cocktail"? Where will religiously-devout families take their hordes for Sunday dinner and teach them the merits of not leaving a tip? And where will old folks mooch off "endless" soup and salad bars and insist on taking their remaining cucumbers 'to-go'? Oh wait, that's right…they'll just be at one of the other 1,328,759 chain restaurants out there.
Posted By Ariel
Posted By: netgain