[Road] Safety First!
Image Source: boredpanda.com
A week after my nineth birthday I was given the rite of passage to ride my bike all 1.3 miles, without an adult, to the general store in my sleepy South Shore hometown.
My friend Bea and I strapped on our helmets and began our journey with overwhelming feelings of freedom and butterflies in our stomachs. I remember it so clearly: my braids flapped in the breeze as I floated down hill after hill into adulthood. It was liberating.
We made it all the way to our reward of Richie's Italian Ice and as much candy as we could get for our combined $10; all we had to do was cross the street and the sweets were ours! We looked both ways and began our voyage to the other side of the street… and then everything went black.
Out of nowhere, an SUV sped around the corner and collided with Bea. The next 30 seconds were filled with the terrifying noises of screaming, screeching and sirens.
Bea, by some miracle, landed in a grass patch next to the sidewalk and was not critically injured. While I, embarrassingly enough, ended up in the ambulance after passing out in the middle of the road from having a panic attack (I was nine, okay…), she was saved by her helmet and walked away bruised and shaken up, but walking.
The driver was a lovely woman who called the ambulance and stayed with us until our mothers got to the scene. To this day all I can remember is feeling bad for her. The spot was notorious for accidents, and this woman could not have known that when she turned the sharp corner off of Main Street that two little girls would be crossing the road. But, had she been driving cautiously – slowly – she could have hit the breaks sooner and avoided the incident all together.
So often we drive our cars on autopilot. Whether it be decompressing from the day or keeping a running list of the million places we're supposed to be, most drivers are preoccupied and not thinking about how fast they're driving.
A town in Iceland came up with a way to wake drivers up from their daydreaming and remind them to slow the eff down (in a fun and visually appealing way!). After seeing a similar display in India, Iceland's Environmental Commissioner Ralf Tylla requested that the small fishing town of Ísafjörður receive its own "3D Zebra Crosswalk" to slow down pedestrians.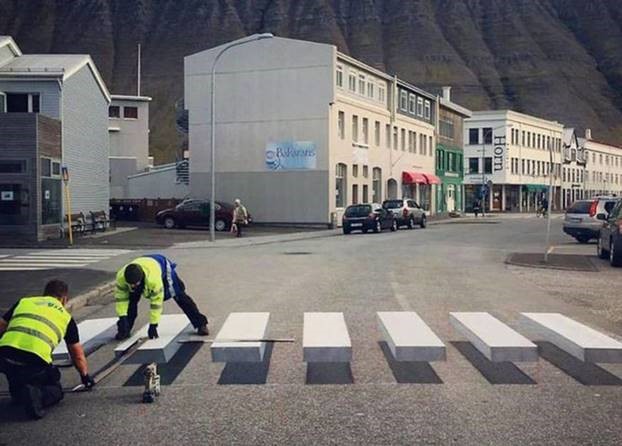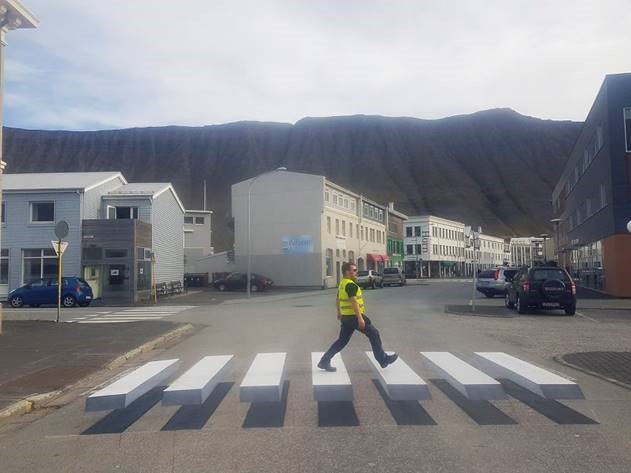 Image Source: boredpanda.com
Not only does it make a super cool Insta, but this cross walk appears to be raised from the ground, causing drivers to slow down and be present. I personally think it's genius. Will street art become the new standard crosswalk?
Posted by Christina B.