Rolling With the Punches
In a recent attempt to channel my inner Million Dollar Baby, I decided to check out my local boxing ring for a week of introductory lessons (cue epic training jams). While the club boasts a pretty enticing tagline ("Our gym kicks your gym's ass"), after yesterday's catastrophe, I think it's safe to say that the only ass kicked was mine.
As the years have passed, so have my fitness obsessions. My current stab at UFC stardom started after I got bored of my usual spin class…which I took up when I decided I was "over" Bikram…after giving up on Pilates…well, you get it. Judging by the fact that I'm already struggling to lift my arms to type, I have a feeling my boxing career might be pretty short-lived. Perhaps it's time to throw in the towel (literally) and start a fitness regimen that's a bit more up my alley:
Wiking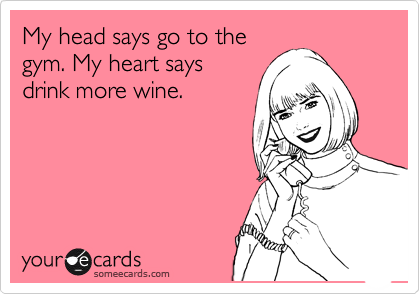 Image source Somecards.com
If you're anything like me, you need some tangible motivation to get through your workout. Thanks to Wiking, there's not only a light at the end of the tunnel—there's WINE. In this perfect combination of pinelands and pinot, hikers embark on a four day, 40-mile tour along the Rouge River Trail in Southern Oregon, with nightly wine tastings and home-cooked lodge dinners at the end of each day's trek. In other words: Sign. Me. Up.
Doga
Running with my dog usually ends in one of several ways:
Chasing squirrels into oncoming traffic.
Chasing people into oncoming traffic.
Chasing oncoming traffic.
Since jogging is definitely not our thing, I think it's time we tried out a new exercise routine that doesn't put our lives on the line.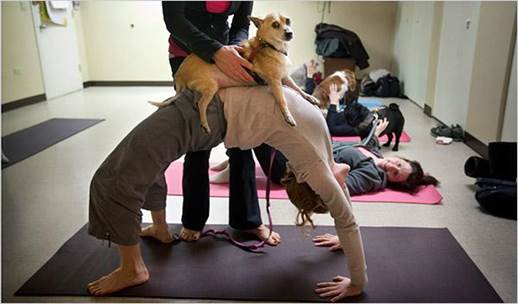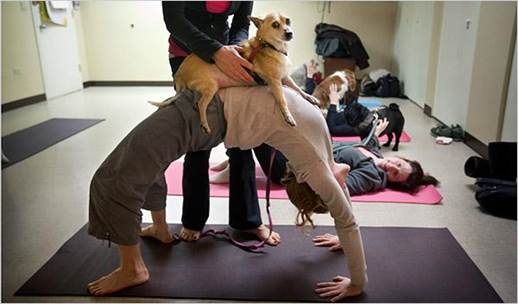 Image source The New York Times
In doga, humans and their pampered pups get their Zen on in a class combining massage and meditation with gentle stretching. While it's said to be a great bonding experience for dogs and their owners, I can already picture the madness of trying to force my Weimaraner into downward dog pose. In the meantime, I'll go for the puppy playtime and spend the class making kissy noises at every dog in the room. Sorry in advance.
Prancercise:
[youtube=http://www.youtube.com/watch?v=o-50GjySwew]
…Need I say more?
Posted by Ursula