S.O.S. The Jonas Brothers are back?!
Image Source: Giphy
The Jonas Brothers might be back and people are freaking out. Twitter's been buzzing with rumors that after five years of silence, the band's Instagram account appears to be reactivated. Fans are now speculating that Kevin, Joe, and Nick might be planning a reunion tour.
The signs are everywhere. For starters, this year happens to be the tenth anniversary of A Little Bit Longer, the Jonas Brother's third album. Ryan Liestman, one of the Jonas Brother's back up musicians, recently posted a photo with the Brothers to his personal Instagram captioned "Family reunion." And Tommy Wiseau tweeted a selfie with Joe Jonas featuring a caption referencing the band getting back together. (Billboard). Coincidence? I don't think so.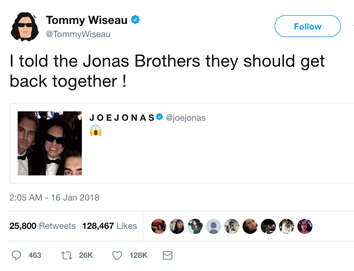 Image Source: Twitter
Is this just a dream? Is it reality? Twenty somethings around the world (myself included) can't wait to find out if our favorite brothers are planning their return to the stage for the first time since 2009.
Here's hoping we all get to take a trip to the year 3000 again sometime soon.
Posted by Victoria