Say "Thank You" to our Troops!
The holiday season has a way of bringing about feelings of giving and compassion. Maybe you threw a few coins in the Salvation Army's pot or bought a cup of coffee for the stranger behind you in line (I'm still waiting for this one to happen to me, damn you $4.00 lattes! I digress…).
Since it's sometimes hard to spend more than your normal allowance in the holiday spirit (and in this economy), the latest campaign from XEROX lets you give back for free. If you want to make someone smile this holiday, visit www.LetsSayThanks.com and send a card to a soldier currently stationed overseas.
You can choose the design you like (all the cards were created by children across the country) and either write your own message or pick a pre-drafted note that best represents your gratitude. XEROX will then print your card and send it in a care package through the military support organization, Give2TheTroops. One lucky soldier will receive your special card in the mail!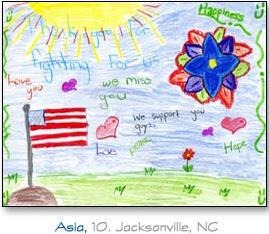 I think this idea is amazing – Let's Say Thanks is a wonderful way to say 'thank you' to the men and women who have put their lives on hold to serve our country. Many soldiers won't be able to see their family and friends during the holidays, and if your note makes them forget that—even for one moment—then the ten seconds it took you to say "thanks" was arguably the best use of your time this season…and beyond.
Posted by Alyssa