The Sean Spicer Apology Tour
Image Source: Boston Magazine
I've written about celebrity apology tours on the m.blog in the past (ahem, looking at your Bieber) and how it's almost insulting how obvious and self-serving they are (well, at least to PR pros!).
In case you've been under a rock lately, we've been experiencing another type of apology tour, except this time we're not trying to clean up a bad image of DUIs and illegal foreign monkeys. Instead, we are talking about Sean Spicer trying to save face from his time as the White House Press Secretary.
As Press Secretary, basically everyone hated Spicey from the moment he spoke his first word from behind that podium (which just so happened to be a lie, so ya know, there's that). It never really got better throughout his tenure, except for that one time that Gronk interrupted his press briefing and the fact that it birthed Melissa McCartney's SNL impression.
When he eventually resigned to make way for The Mooch, Spicer went radio silence and likely spent a lot of time drinking and/or in therapy to get over the experience (at least, that's what I'd do). Now, fast forward a month or so and he decides he's finally ready to put this White House behind him, officially beginning the Spicey Apology Tour 2K17.
First order of business was to sit down with Jimmy Kimmel to share his experience in a light-hearted softball situation where he could make a case for why he shouldn't be hated by making a few jokes and laughing at himself.
Not a bad interview and Jimmy gets plenty of "WTF was that" jabs in there. I'd say general feedback was relatively neutral to very slightly positive, which probably gave Spicey some optimism. Not even a week later, I guess he was feeling REAL confident and made a surprise appearance at the Emmy's.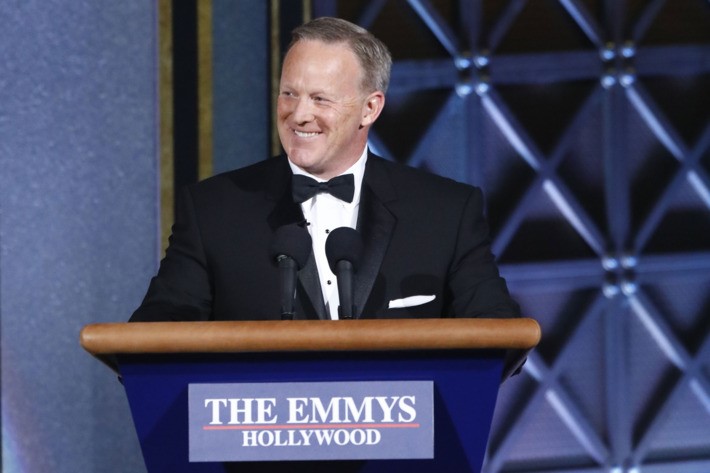 Image Source: Vulture
Boy was he wrong! Feedback this time was NOT GOOD. I guess he missed that sign on the stage door that said "abandon all hope, ye who enter here!" Lots of people are outraged that he is making light of the situation and joking about perpetuating lies. Time to go back into hibernation for Mr. Spicer, I suppose.
Posted by Tracy