Serial Season 3 Proposal?
Image Source WordPress
There is no doubt that 2016 has developed a fascination with murder and mysteries, most likely sparked by series such as Serial and Making a Murder. While obsessing over these televised cold-cases, what most Bostonians don't realize is that their city has a mystery of its very own.
Strange disappearances have become somewhat of a regular news story here in Boston.  From the first headline disappearance of Dustin Willis in 2007, to the more recent disappearances of Eric Munsell, Josue Quispe, Dennis Njoroge, and (most recently) Zachary Marr, Boston has developed a mysterious pattern of young men essentially vanishing.
While all of these cases have since been deemed closed, one local Reddit user (Elise) decided to release her inner Eric Hotchner to see if there is something more sinister going on in our beloved city. You can check out her full article here: https://cryptidantiquarian.wordpress.com
Now, I'm not preaching conspiracy theories or anything of that nature. I trust that the police and the families of these men know more to what happened than what was released to public – BUT – I have to admit, this article did have some interesting findings.
Elise compared all of the disappearances and made a visual to associate where all of the victims were last seen vs. where their bodies were found. The proximities of these disappearances in Boston's Financial District are, as Elise puts it, incredible.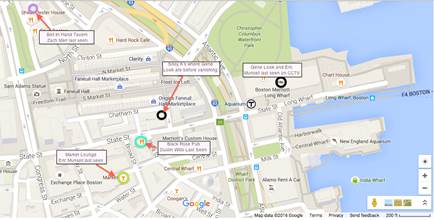 Image Source WordPress
Some other key comparisons found:
All victims were in their late teens to mid-twenties
All were out with friends and seemed to vanish out of thin air
None of the victims were suicidal
Two of the victims were on the phone moments before disappearing, their phones were found the nights of the disappearances
Two of the men left a bar they were in without a coat in freezing temperatures
Two of the men were from NC and both were at one point in the Navy
Two of the men were sober at the time of their disappearance
All victims were found in bodies of water, drowned, and with no apparent signs of foul play
There are even more connections between these victims that are further explained in the article. Check it out and you can decide for yourself; are these cases of simple misfortune, or murder?
Posted by Sydney