Shake It Off in Your Neon Unitard
Image Source Youtube
Unless you've been living under a rock for the past couple of weeks, you've undoubtedly heard Taylor Swift's new head bobber "Shake It Off." Even if you're not a fan of T Swift (or if you're like me and still in denial about the fact that her music can be somewhat good), the video is pretty cute. Donning a variety of outfits and dancing around with the best of them, the infamous heart breaker sure knows how to make fun of herself. Admittedly, that makes me like her a little bit more.
Right now, it seems all anyone can talk about is how "haters gonna hate hate hate hate" (even my father has filled me in on this fact…), but maybe what we should be talking about is how perfect the song is to shake things off – aerobic style. As a child of the '90s I'm sure even T Swift herself couldn't imagine how well her catchy tune would pair with a 1989 aerobic workout. Or maybe she does – the "1989" title of her newest album seems a bit more than fortuitous.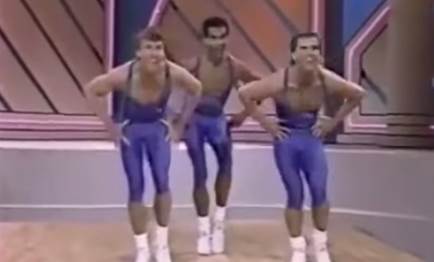 Image Source Huffington Post
Thankfully, the great minds of the Internet always know how to keep us entertained. As if an '80's aerobic video isn't giggle-worthy enough in itself (men kicking their legs sky high while wearing unitards, anyone?), syncing it with Taylor's track is simply genius. The routine seems to have some "shake" elements itself, which work only too perfectly with the song's theme. As we have entered the season for giving thanks, I can say that this video makes me thankful for two things: 1) the existence of late '80's to early '90's color palettes (oof) 2) no one has uncovered a Richard Simmons routine to sync to today's popular music. Need I say more?
Posted by Amy