Shake What Your Daddy Gave Ya
I've said it once in a blog and I'll say it again – I'm a daddy's girl. Starting from a young age I followed my dad around while he went about his everyday life and was the tag-along sidekick he never knew he wanted. So much so that I was given the name "Lil Tat" (my father's name is Tat) by his weekly bowling buddies, a nickname that has lasted much longer than the lingering smell of bowling alley smoke ever did (hey, it was the '90s). Even now, at the age of 23, I have no shame in saying that my dad is still very much my buddy – from movie dates to lunchtime walks through the streets of Boston, we can hang with the best of them.
This being said, my heart immediately melted when I came across a piece in the San Francisco Globe about what happened when a fun-loving dad and his adorable little girl were left alone in the house for an afternoon. Mom was gone and the "kids" were left to play. Rather than sticking his daughter in front of her favorite Disney movie and kicking back with a cold one, this dad and his daughter grabbed the camera, dove into the costume box and dusted off their dance moves to make their own music video to Taylor Swift's undeniably catchy "Shake It Off."
The result: 2:45 minutes of pure gold, complete with costume changes and some pretty snazzy dance moves all staged in the basement. In between the mini-tramp and the treadmill, of course. All I've got to say is, who says dads don't know how to dance?
This one knows the side-to-side wrist flick.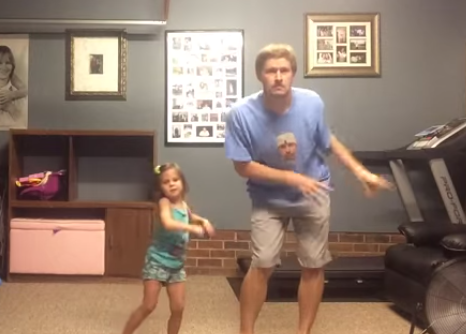 And the always fashionable walk like an Egyptian pose.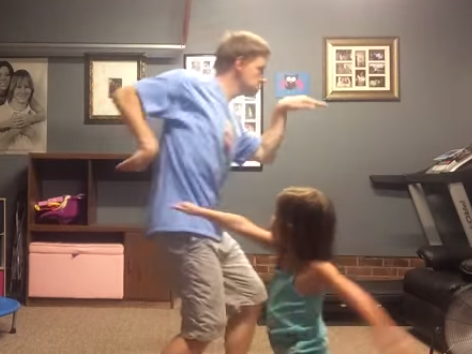 And, when all else fails, distract your viewers with a strategically placed horse head. Wait, wha?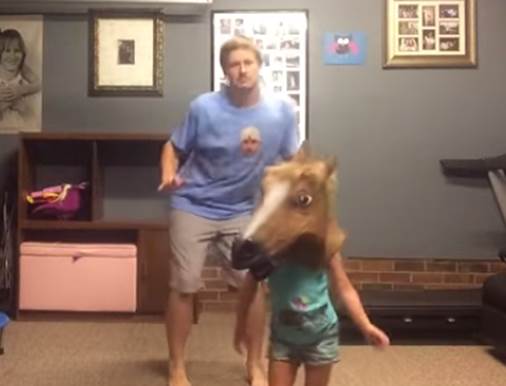 Am I the only one who hopes we may see a recreation of this video surface, in years to come, at this little girl's wedding? (Trampoline not included). If your day needs a boost, I recommend this as a quick pick-me-up. Daddy daughter dancing aside, who do you think edited this thing? Now that's some daddy dedication.
Posted by Amy