Shame Food
Image source Boston.com
I wouldn't call myself a food snob, or even a "foodie" for that matter (only because it's kind of a lame term) but I feel like I generally know, cook and eat good food – mostly thanks to my outstanding mom who had a restaurant-quality meal from scratch on the table every night at 6:15 on the dot. I'm no perfect critic, but I do cringe and try to hold back judgment when I see people/friends indulging in things like Hamburger Helper, casseroles made with condensed soup, or the occasional gas station pre-made sandwich. That's not real food, people.
But let's be real – everyone has a secret, beloved food that they might be ashamed of. Do you hide Oreos in your pillow? Make midnight runs for McDonald's fish fillets? For me – its marshmallow Peeps. Really, I love any kind of marshmallow, but there's something about the cavity-inducing crunch of the sugar on the outside of this highly processed food-like fluff (oh wait, I actually do currently have a cavity that needs to be filled…). My favorites are the chocolate-covered peeps – you know, the romantic kind. Lucky for me, and I'm sure millions of others out there, there are endless recipes available on how to use these sweet treats.
If I actually used Pinterest, this would totally come in handy – skateboarding Peeps??
Or these from PopSugar (appropriate name) – mmm, s'mores Peeps. How outdoorsy.
Dunkin has even released a peeps donut, just for Easter. I know what my holiday meal this weekend will be.
Go ahead, you can judge me. Luckily, I've got someone at home who will make me a Peeps-themed breakfast on my birthday…what a guy!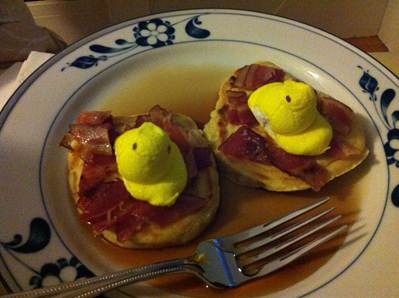 That's a "birds in a nest" peep-topped pancake with bacon… if you can't tell. 
Posted by Amanda