Shape Grooming: The New Trend in Cruel & Unusual Punishment
Image Source Youtube.com
Trendy haircuts seriously scare me. Being brought up under the notion that "what's in today is gone tomorrow," I was always very hesitant to jump on the trendy new haircut bandwagon, keeping my hair at a boring below-the-shoulder length for a disgusting amount of time.
Short, dramatic Victoria Beckham bobs and Demi Lovato-esque half-shaved heads never intrigued me, mainly due to the fear of a new hairstyle coming into fashion, leaving me out of date and stuck at a weird length. I basically had reverse FOMO.
Image Source dailymail.co.uk  
Although my hair was unchanging for about 10 years of my life, I still look back and am happy I don't have any embarrassing photos of "that terrible haircut." But what happens when you can't make a choice about your hair? Like that horrible bowl cut you got when you were four…or these poor dogs in Taiwan who have been subjected to the newest trend, Shape Grooming.
Think back a few weeks when Lulu's one-off Florida groomer botched her haircut, leaving her looking like Falkor from Neverending Story.*** Yea, well, this is 10x worse. Groomers are taking the liberty of shaping dogs' hair to resemble spheres, squares, etc. The original goal was to make their haircut "pop." It does a whole lot more than that.
Take a look below and you tell me…would you subject your animal to any of these trendy hairstyles? I sure wouldn't, who knows what the next style will be!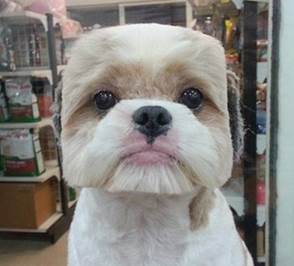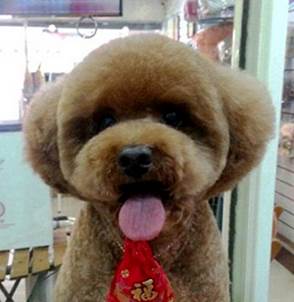 Image Source dailymail.co.uk
***(Dear Marlo, Lulu is always and forever the most beautiful dog on the block, but that haircut was scary.)
Posted by Emily