And Shazam… You've Got a New Wardrobe
Source:  ScreenShopIt
Since its launch back in 2012, the Shazam app has revolutionized how people hear new music, identifying a song that's playing in real-time at the click of a button. I remember thinking how great a concept this would be for other things in life, especially as I was about to leave for college and desperately needed to revamp my clothing choices. What would be better than an app that recognizes all the amazing clothes that you see celebrities wear online (but are obviously way too expensive for the broke college student that I was)?
ScreenShop is here to provide a solution to all your clothing needs. The recently-launched app is set to change the way people search and shop for clothes by tying in the "screenshot" option that smartphones offer. How it works is simple – screenshot an outfit or clothing item of your liking and ScreenShop will find exact or similar pieces in a wide range of prices and sizes.
As communication adapts to the digital age, co-founder and co-creator Molly Hurwitz says that shopping and style is no different. She states, "As a woman who loves fashion and shopping, I lean on friends and influencers who have great style… ScreenShop is our way of helping consumers actualize the fashion inspiration on their social media feeds, providing them with an easy way to immediately shop the styles they see and love."
Preach it, girl. This is something that serves people everywhere, whether inspired by a celeb's recent outfit or in desperate need of the denim jacket that your sister's best friend's cousin wore in an Instagram photo that you just happened to stumble across (*wink*).
And who to back this revolutionary venture? No one other than social media and style queen Kim Kardashian West, who met Hurwitz through a friend and serves as a key advisor. Kim says that it's no secret how much she loves social media and, "being able to shop from her feed is something that she only dreams about."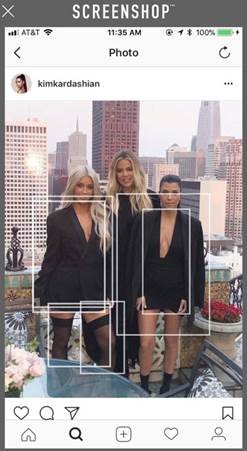 Source: BravoTV
The app has so far received stellar reviews on social media and is free to download for IOS and Android.
Now can someone please create the food version of this? Because I would love to devour the burger that the same sister's best friend's cousin posted three weeks ago…
Posted by Katie