Shoe Obsession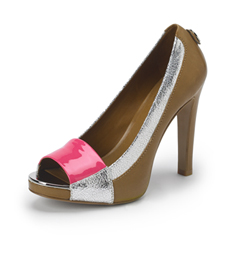 I can't say I'm a shoe-obsessed type of girl. My vice is more just
articles of clothing, in general. BUT, I've zoned in on these spring
heels by Tory Burch and I can't get them out of my head. There's something about that flash of hot pink at the toe of these honey brown peep-toes that makes them oh-so-cool. I'll tell you what I'm not obsessed with though – the pricetag of $395! C'mon Tory,
throw us a bone!
Posted by Brianne
Posted By: marketingmarlo