Single-Serve Coffee Meets Cocktail
Image source Kickstarter
As I've mentioned before, coffee is my weakness. So I've been known to dabble in purchasing a few Keurig machines in my lifetime. First it was the single cup brewer, then I moved into the big leagues with my elite brewer (seriously that's the name). But I have to admit, this next Keurig-inspired machine takes the cake.
Introducing the Bartesian. Essentially, your own personal mixologist, in Keurig form. Instead of filling up the good-old machine with some tasty tap water, you fill it up with your favorite vodka, gin, rum, and tequila. Insert one of the pods that are filled with fruit juice (not fake powders) and bitters and "brew" for a flawless cocktail.
Right now six drinks can be made in this nifty machine; with the touch of a button, you've got yourself a sophisticated, perfectly proportioned cocktail. This fancy system eliminates mess, avoids that awkward moment when you pour an undrinkably strong cocktail, and is perfect for us lazy chicks who think opening multiple bottles is simply too much of an effort.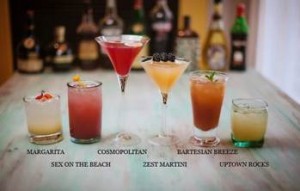 Image source Kickstarter
But this lazy man's bartending machine will cost you a pretty penny, starting at $249. They are still looking to reach their goal of $100,000 on their Kickstarter campaign, if you have some extra change to spare and want to contribute to a worthy cause.
That being said, if Marlo wants to spring for one, I wouldn't be opposed — it would fit in perfectly between the Nespresso machine and the Kombucha on tap!
Posted by Carli