Snowstorm Solidarity
Image source People.com
Since making my move down to the Big Apple this summer after four wonderful years in Boston, I've found that no matter how much I adore NYC's rambunctious, exciting nature, Boston still resonates as "home" in my mind. Big changes often take time to sink in, and I'm sure the day will come when I stop loudly comparing the mid-level quality of NYC's parks to the sheer unadulterated beauty of the Boston Common (which of course I referred to as overly coiffed tourist traps during my time in Beantown, shame on me).  But what I miss most of all? The unbelievable camaraderie, compassion and commitment the Boston community consistently displays in times of hardship.
At this point, everyone in the U.S. is currently well aware of Boston's newsworthy current condition, buried under 5'+ of the white stuff. But what's really causing journalists to spotlight the "snow globe" city are its incredibly selfless and unbelievably spirited inhabitants. When the first blizzard took the city by storm, it wasn't just the commuter traffic making headlines, but the lone, dauntless snow shoveler faithfully clearing off the marathon finish line (insert aggressive wave to our old office location!).
Of course, I can't go on without mentioning the Patriot's unbelievable victory against the Seattle Seahawks, especially after the #deflategate rumors and resulting hardships that plagued our star spangled little warriors. Whether the accusations turn out to be truth or fiction, there's no denying Boston's boys overcame some serious obstacles for that Super Bowl bling, and thanks to our trusty fleet of unstoppable duck boats, celebrated snowy New England style — blizzard be damned!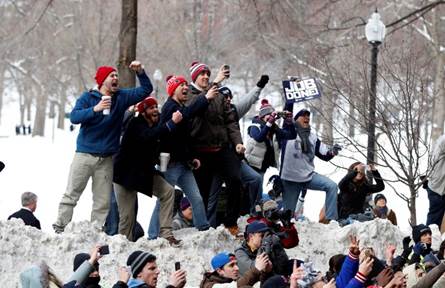 Image source NewsDaily.com
Last but not least, let's not forget our fuzzy-wuzzy blizzard buddy, the Boston Yeti. While reported sightings of our masked and (mildly) mythical snow monster have been confirmed via multiple social media recounts and captures, the exact purpose of this local masked crusader is still somewhat of a mystery. Nevertheless, in the midst of a particularly frustrating and frigid situation, it never hurts to have a good chuckle at the thought of Mr. Abominable hailing a cab in Somerville to take him back too…his cave on Comm Ave?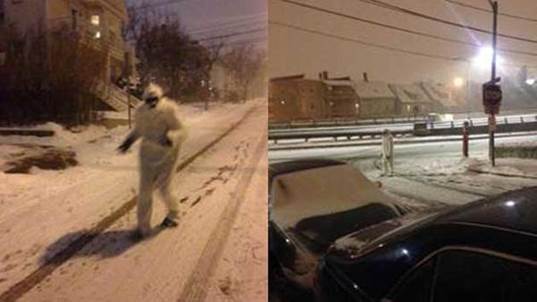 Image source ActionNews.com
While the first warm days will undoubtedly bring on what I have come to refer to as the "Boston Brainwash," where weary winter memories quickly dissipate in the midst of roof deck rosé and spring soirees, until then stay warm and safe my beautiful, brilliant Bostonians!
Posted by Jenna