Some Memories Aren't So Sweet
Image source Gizmodo UK
As I'm sure you are all aware by now, Facebook rolled out the "On This Day" feature earlier this year, basically doing exactly what Timehop has been doing since 2011 – reminding us of all the embarrassing shit we drunk-posted in our college years. (They have yet to come out with an "undo" button for human decisions. Your move, Zuckerberg).
Anyway, as much as the nostalgic peek into our past can be sweet (that time I bungeed off of a cliff in New Zealand or watched a Red Sox game from box seats), it can be equally as un-sweet (the pictures with exes before a bad break up, aforementioned sloppy statuses written after multiple raspberry vodka shots…). In response to the desire to not remember parts of our past shared on social (or at least remember them only when we want to), Facebook just released a new feature. Users can now filter their memories by people and/or dates that they wish to remain in the past.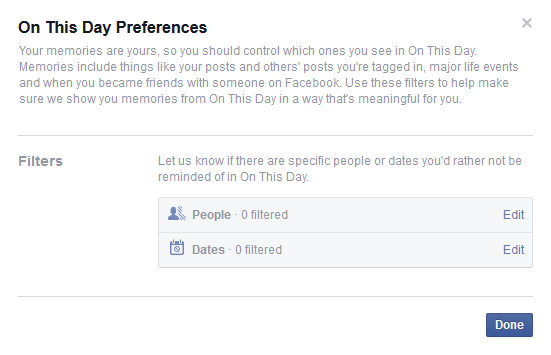 I commend Facebook for this option, especially seeing that people have been very unfortunately reminded of events in their past. Though sometimes anniversaries of tragic happenings allow us to reflect on them in a positive way (reminding us of happy memories shared with a loved one who has passed, for instance), it is not ideal for that memory to be shoved in our faces upon opening our Facebook app in the morning.
On a less serious note… BRB, going to filter out freshman year of college.
Posted by Erin D.