Something Old, Something New, Something Furry
If the name of this blog post alone doesn't grab your attention, then the pictures below will (you're welcome). First of all, I have been to x amount of weddings in my lifetime and not once have I been graced with the sight of a dog in a tuxedo. If there was anything to have me excited about marriage, this is it.
Before I even get started, take a look at:
Frank, a very good boy:

Image Source: The New York Times 
Mickey, looking pretty in pink: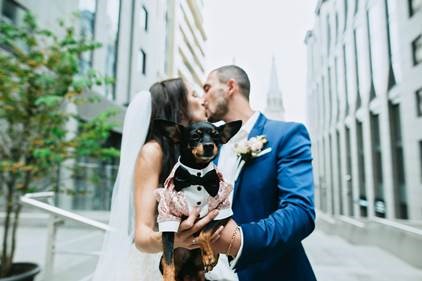 Image Source: The New York Times 
And Pete, looking really happy to be in a dress: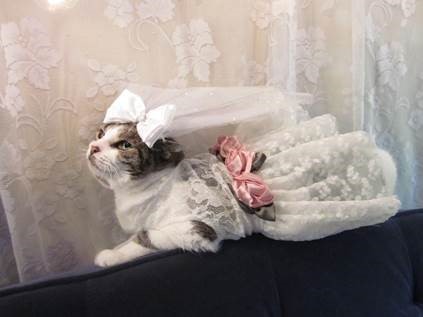 Image Source: The New York Times
Let's be real, our pets are our family. For many newlyweds, a pet is the first family member they share. So, why not include them in the wedding? You might be thinking, "This is cute and all, but how much does it cost?" Prices range from around $100 to up to $300. However, if you are looking on Etsy, you can expect to pay less than $100. Not bad!
This niche market may seem unprofitable at first glance, but business owners within it may say otherwise. According to The New York Times, Anna Konokhova, founder of Happydog Pet Couture, had engaged couples flooding her inbox after posting her designs on Etsy and has since made weddings her main business. Tonya Hart's business, House of FurBaby, also started on Etsy, and has been so profitable she will be opening up her first brick-and-mortar store in Wichita, KS.
Some of you, like me, have pets that wouldn't last more than two minutes in a suit. If so, there are shops like Cupid Collars that design wedding-ready collars for the fussier of pets.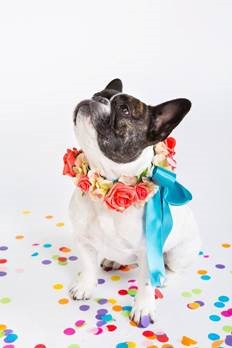 Image Source: Pinterest 
So if your pet dressed up for your "I Do's," send a pic to The New York Times and it could end up in their album. (Share the photos to us as well, of course!).
Posted by Carly