Sorry, I'm not Sorry: In Defense of Justin Bieber
If you aren't living under a rock, then you probably know Justin Bieber was in Boston last week. In town performing two shows for his "Purpose: World Tour," many fans asked the question "Where are you now?" as they attempted to track his every move.
Seen strolling the Public Garden barefoot one day, and then hanging out in a tree the next, JBiebs behavior is puzzling and bizarre, yet somewhat expected at this point. After fans tried taking/asking for photos with him on these very outings, he posted a message on Instagram addressing his discomfort. He stated, "It has gotten to the point that people won't even say hi to me or recognize me as a human, I feel like a zoo animal, and I wanna be able to keep my sanity."
Many people are outraged by his comments, asking "What do you mean Justin? If you're a celebrity you asked for it!" In this very office, the resounding discussion reiterated the idea that Justin is an a$$hole for refusing photos with fans, etc.
SORRY, but I'm taking a somewhat controversial stance (at least among my contemporaries) and am siding with Justin. Yes, being a celebrity comes with fame, paparazzi, countless interviews, etc. However, it's easy to be dismissive when none of us know what it is like to be the biggest pop star in the ENTIRE WORLD. Think about it, Justin has a spotlight on him 24/7, and wherever he goes, people are watching, judging and criticizing. Imagine getting up in the morning and not being able to walk out your front door without being surrounded? Not having any moments of peace enjoying the world around you? Seeing negativity and hate on social media constantly?
Many make the argument that his hefty salary comes with the burden he takes on, however, can all that money actually bring you happiness when you can't enjoy the simple pleasures of life? When you don't know who your real friends are, who is using you for the money and the fame, or who is going to leak a picture of you to TMZ? Yes, this happens for every celebrity, I get it, but keep in mind that there are few on this planet that are as universally known today, with as much of a young, hungry fan base.
Justin is one of our generation's greatest talents, it's true. We should appreciate and enjoy his music without being so quick to pass judgment. We also need to be a little more sensitive to the fact that there's no guidebook for mega fame, and that he is still only 22. Maybe WE should actually be the ones to self-reflect and realize that our social media obsessed, camera phone crazed society actually is the flawed system. Maybe WE should alter our behavior to reassess why a "photo" of Justin is so valuable to US. Maybe WE should wonder why we care so much that Justin is sitting in a tree listening to music or strolling barefoot through the park. Maybe WE should realize that WE are the problem, not Justin. #TeamNoPhotos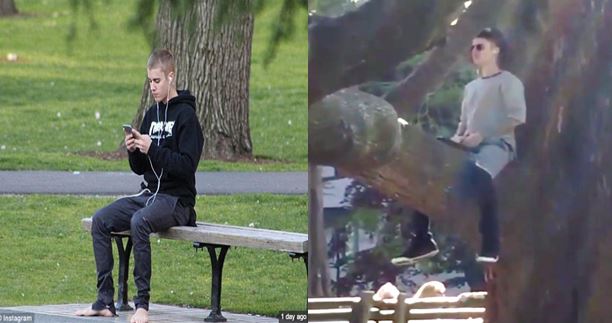 Image sources: Instagram

Posted by Anne.