Souping Is The New Black
It seems like nowadays everyone and their mother is doing a juice cleanse. You know, that torturous thing people do to themselves in which they forego food for juice for a few days in the name of "cleansing" and "detoxing." Not exactly sure how this phenomenon happened. One day a juice cleanse meant attempting to choke down the lemon water, honey and cayenne pepper concoction that Beyoncé was rumored to drink before award shows. Now, it's the norm to shell out at least $200 for a three day supply of juice.
I've been waiting for the juice cleanse craze to die down since I am essentially a zoo animal (shout out to the Franklin Park Zoo!) that requires hourly feedings of solid food and I could never get on board with "The Cleanse." So you can only imagine my delight when I read about the next big thing in hipster body rejuvenation: Souping.
Yes, soup. An LA-based company called Soupure has debuted a new cleanse that still deprives you of solid food for days on end, but lets you drink soup! Claiming that juicing is not an acceptable meal replacement, Soupure offers a variety of soups, broths and water as a "more satisfying way to cleanse."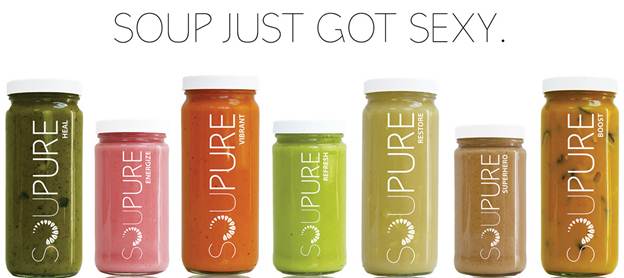 Image source soupure.com
As First We Feast points out, "souping" is essentially just savory juicing, "a.k.a gazpachoing." Sound appetizing? Sure, I love me some gazpacho, but I think I'll continue with the whole solid foods thing as a "more satisfying way to live."
Posted by Tracy