Spilling All The Tea
Source: Twitter
I don't think I'm alone when I say I was pumped for Mariah Carey's 2018 NYE performance. No matter what, the pop diva is always a showstopper, and when it comes to a buzz-worthy performance, she doesn't disappoint. This year, Mariah took to the stage on the frigid night of December 31st to belt out her hits, but, to her surprise, there was no hot tea waiting for her nearby, as she was promised.
In classic Mariah fashion, the singer did not let it go unnoticed, questioning where her tea was and calling it a "disaster" in front of millions of viewers.
For anyone who missed the moment, click here.
Fan went absolutely wild on Twitter, most finding it a downright hilarious and glorious way to finish off the tumultuous year that was 2017.
Since the performance, the superstar has decided to poke fun at herself, releasing a line of "tea shirts" with sayings like "I was told there would be hot tea!" and other now famous phrases.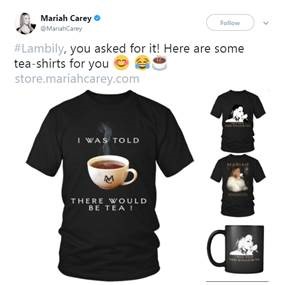 Source: Twitter
While the moment may have received mixed reactions, I think we can all learn something from Mariah's business acumen. Rather than try and defend the moment or ignore it completely, she is capitalizing on it with no shame whatsoever, bringing her more publicity (and more $$$) than one could ever imagine.
Start the new year off right and purchase your "tea shirt" here. Happy 2018, Mariah!
Posted by Katie