Splishing and Splashing to Olympic Stardom
Loyal m.blog readers already know about my (not-so) secret past as a competitive synchronized swimmer.
For those of you who were unaware until this point (stop snickering), my tween and teenage days were spent in the pool toggling from synchronized swimming to high school speed swimming practices (literally hopping from one pool to another). As a result, my talents were super weird (still are) – think crazy lung capacity, abnormal flexibility, the ability to blow bubbles from my eyes (gross, I know), and the competence to change from a bathing suit to regular clothes on the pool deck without flashing a single soul. The stuff of legends.
Although it's not the most high-impact or rough 'n tough of sports out there, I still hold true to the fact that synchronized swimming is the most challenging, result-baring exercise I've ever done. Harder than spinning, more difficult than boot camp, and way tougher than Zumba (duh). So when the summer Olympics begin every four years, you know what I'm watching.
This year, Team USA's synchronized swimming crew is one badass group of gorgeous mermaids athletes. These talented ladies spend hours practicing their skills upside-down, without breathing, all while launching themselves and each other into the air with a goal of making it all look easy. It's not easy.
So, in an attempt to increase the badass status of you, our m.blog community, it's time to learn some tricks of the trade, starting with the ballet leg, a staple in the synchronized swimming sphere. Practice every day and you could splish, splash and flip your way to Olympic stardom.
The Ballet Leg:
(Image source Synchroism)
Step one: Skulling. It's best to practice this on land first. In the water, lay flat on your back (cardinal rules: head to the ceiling, toes pointed!) and let yourself float. This is called a back layout. Bend and raise both elbows so your palms are facing behind you (like below). With your hands cupped, move your forearms in towards your sides and back out over and over. Don't stop (or you'll sink…). You'll be skulling for the entire ballet leg, and throughout your potential Olympic-bound future, so get used to it. Hence the sweet biceps on these gals.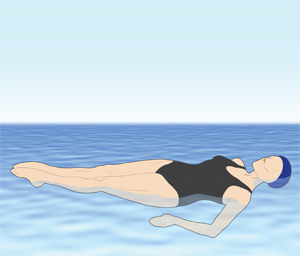 Step two: Slowly bend your right knee while dragging your toe along the front of your left shin. Stop when your knee and thigh are perpendicular to your body (your right toe will land just below your knee cap). There should be space for air under your knee at this point, but we can work on that. If you feel yourself struggling to stay afloat, drop your arms lower and scull further under the surface to support your hips.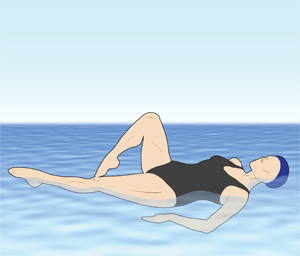 Step three: Here's the hard part: Slowly straighten your right leg, keeping your thigh still and toes pointed until your right leg is sticking straight up to the ceiling, forming a 90 degree angle with your body. Keep skulling. Don't freak! You might sink at this point, but Rome wasn't built in a day. Pop back up to the surface and try, try again.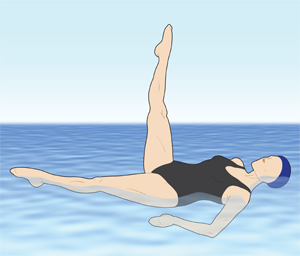 Step four: Without making a big splash, lower your right calf back down to the bent-knee position you were in before, keeping your thigh still, arms moving and toes pointed.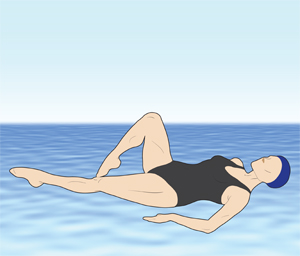 Step five: Hang in there! It's almost over. Gently straighten your right knee while sliding your toe across your shin until you are in your back layout (arms still moving in and out), just as you began. Lay here for a few beats and then take a well-deserved bow!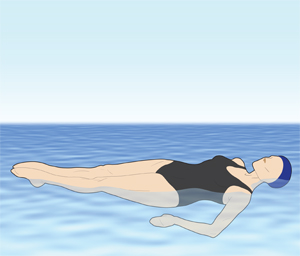 Welcome to the Olympic track, baby! Pretty soon you'll be doing THIS!
Posted by Mary
Image source Everyday Minerals