Spotify Pays Tribute to Rock Legend David Bowie in a Legendary Way
Image Source: AdWeek, Spotify
As a tribute to rock legend, David Bowie, in partnership with the Brooklyn Museum, Spotify recently launched an interactive subway display in New York.
Running for a limited time (through May 13) at the Broadway-Lafayette station within the New York City Subway, passers-by can enjoy a variety of artistic mementos dedicated to David Bowie, representing the impact he had on that particular neighborhood (and the rest of the world). Each piece of art also contains a link back to Spotify, allowing consumers to continue the tribute by personally listening to Bowie's music directly within the app.
The Spotify subway takeover isn't where the Bowie salute ends, however, as it also serves as a promotion for the "David Bowie is" exhibit at the Brooklyn Museum. Running now through July 15, the exhibit highlights David Bowie's influence on the world with a specific focus on the music and fashion industries.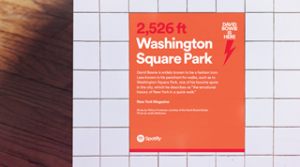 Image Source: AdWeek, Spotify
Way to catch our eye and honor the one and only Ziggy Stardust, Spotify.
Posted by Victoria