#SunBurnArt
Image source Daily Mail
Summer is arguably everyone's favorite time of the year. Unless you're one of those bizarre eskimo-like people who prefer to trudge around the Hub in record breaking snowfalls, in which case move along, nothing to see here. But for the rest of us, summer means BBQ's, beach days and extended daylight hours which all revolve around one thing – the sun.
The sun (to me) is like a best friend. Seriously. It cheers you up when you're sad, lights up your day and is always there for you. Well, except at night…  Perhaps most importantly, its magical powers also help you look your best by giving you that sun-kissed skin and gorgeous glow.
Trust me, I know the sun is bad for you. Even spending 20 minutes without sunscreen can increase your chance of skin cancer by some scary percentage. And while I do my best by rubbing on some SPF 30, I'm the first to admit I could be more diligent about sun protection. No, I'm not Jersey Shore orange, but I do frequently prioritize my tan over skin protection.
But some people have taken the sun's effects and the use of sunscreen to a totally different level. The newest trend in bronzing revolves around #SunBurnArt. Meticulously painting detailed designs on your body, and then purposely burning/tanning your skin, to achieve what looks like a white tattoo effect.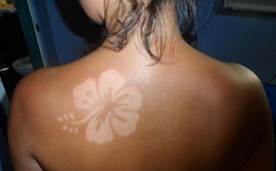 Image source People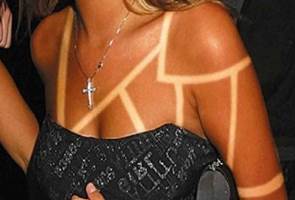 Image source Independent
People are defending this trend, saying they like the idea of a tattoo, but don't want to commit to the permanence of one. Dermatologists on the other hand, are in an uproar. Purposely burning yourself for the sake of "art"? It's like calling out "Hey melanoma, look at me!
While I'm all for a nice tan, I think I'll pass on the making my skin a human canvas for #SunBurnArt. But a human canvas for health and plentiful doses of Vitamin D…that one I can get behind.
Posted by Carli