Sunglow Ranch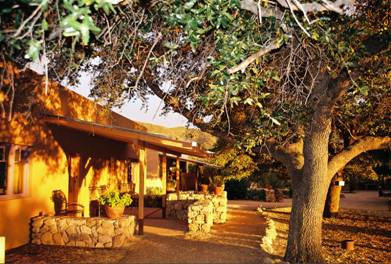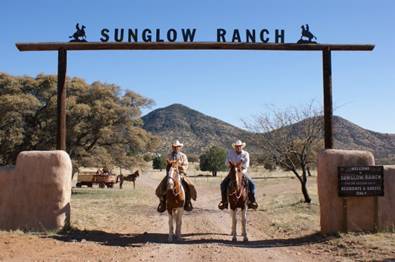 I'm of the mindset that there is only one acceptable answer when the drop-dead-fabulous lady sitting next to you at dinner says, "You MUST join us for a weekend we're putting together at our newly renovated ranch in Arizona": yee haw yes yes! This particular invitation recently brought myself and a few friends (as well as a slew of new faces) to Sunglow Ranch in the heart of the Chiricahua Mountains and Arizona's Sonoran Desert.
The ranch is a 90 min drive from Tucson International Airport, but the ride breezed by, accented not only by spectacular landscapes but also by tempting roadside stops including chicken fried steak at Gracie's Station Restaurant. Modeled as a late 1800s Western Railroad Station, Gracie's boasts a colorful history…the eatery sits alongside the decommissioned San Pedro Rail Line and was at one time a working brothel. Further along the route we passed Wyatt Earp's old stomping grounds in Tombstone; word has it that the town has taken a turn for the worse in terms of tourist traps and has a pretty serious problem with crystal meth…took a pass on that one! Though, admittedly, we did make a quick stop at WalMart (in these parts, options for picking up hostess gifts are pretty limited!).
Highway honky tonk aside, upon arrival at Sunglow Ranch we were all taken aback by the property's elegant design and welcoming atmosphere. The weekend's hosts, Boston residents Chrissy and Mitch Sayere, have owned the ranch for a decade. But this year they excitedly opened the doors to a supremely spruced up Sunglow, complete with plush guest rooms, inviting courtyards with outdoor firepits (perfect for pre-dinner cocktailing!), and delectable meals throughout the day a la local culinaire, Colleen. Serene and secluded, the ranch will be announcing a new spa and pool for the Spring season.
Over four days we filled our afternoons with horseback excursions, walks along the property's wooded trails, massages, and hikes at the Chiricahua National Monument, a breathtaking national park described as a "Wonderland of Rocks". The rock formations are the result of erosion following the eruption of the Turkey Creek Volcano 27 million years ago. In addition to our schedule, Sunglow offers an endless array of outdoor activities and local attractions for visitors, from biking and birding to photo workshops, yoga and astronomy.
Understanding that most travelers head to Arizona for the Grand Canyon, Phoenix and Sedona, a jaunt off the beaten path to explore a gem such as Sunglow and its unique setting is highly recommended. Not to mention, the inclusive rates offering daily meals and accommodations starting at $250/night are pretty alluring as well.
For online reservations, visit: https://online.rezexpert.com/4868. Or, to speak with the Ranch directly for group reservations or wedding packages, call: 1.866.786.4569.
Posted by Sam